Numark IDJ PRO DJ Controller for iPad revealed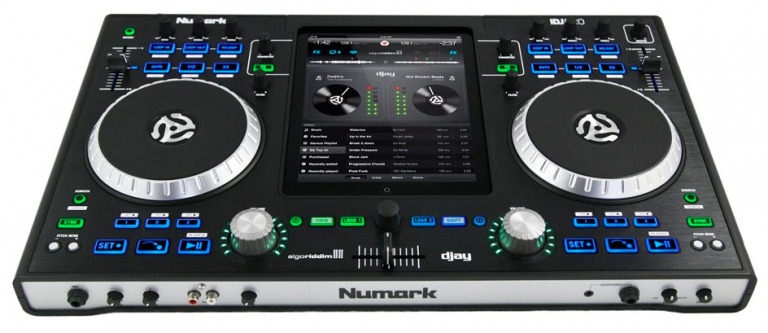 There's been no lack of musical instruments being announced this week at the 2012 edition of NAMM pops up on the circuit, Numark bringing one fantastically amazing looking DJ station to the scene complete with iPad integration. This device was showed off at the Media Preview Day for NAMM and features a gigantic slot right in the center where your iPad or iPad 2 fits in nicely, controlling the whole show. You're meant to use this station with the
which we've also, lucky you, taken a hands-on look at last year. This massive station is made to take that experience to a whole new level.
The Numark IDJ station has nudge/scratch jogwheels, buttons for looping, pitch controls, and the whole shebang besides. You've got volume knobs all around, buttons for the programming, and full integration with the already diverse djay app. This unit is made for consumers mainly, but certainly has nothing large holding it back from being used in a professional party environment.
This unit is made of both a brushed alminum and semitransparent plastic so lighted controls can brighten up your world on the fly. Capacitive touch-activated platters work with Hot Cues and retro-styled aluminum bits across the board for a powerful experience for everyone from beginners to veteran musicians. This device has a dedicated RCA 1/4 input, is Airplay compatible, and has a lovely dedicated music-library scroll knob of which it's quite proud of. This device does not yet have a release date or a price, but we can expect it inside 2012 for sure!
Check out this fabulous hands-on video with Numark's product manager Chris Roman courtesy of the folks over at
- note that although the unit isn't fully working as of yet, it's pretty much a final look at the hardware.