iPad 2 Griffin DJ Cable And Djay App By Algoriddim Review [Video]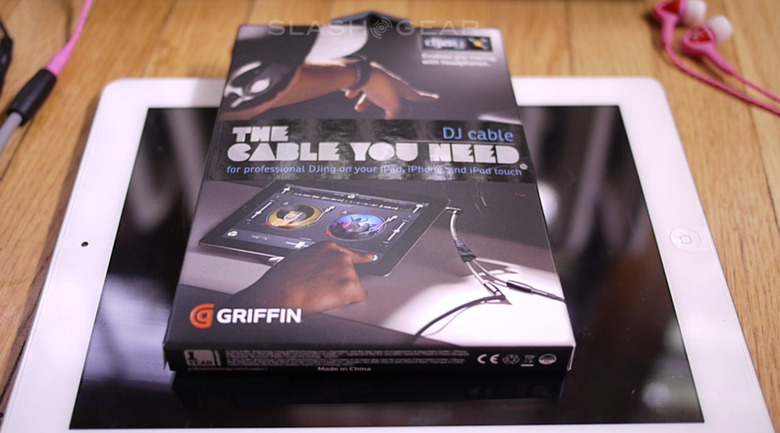 You've heard the rumors, seen the videos, you may have even messed around with a DJ sort of app on an iPad before, but here it is – this is the real deal – here you go. What we're looking at here is two bits of awesomeness, together combined to create one "it just works" sort of digital DJ situation. First there's the djay app developed by algoriddim. This is an app that displays for you two tracks of music (or any sort of audio) that you can control with what everyone knows to be modern DJ controls. Equalize, mix, record, and play. And you can do it all with the hardware bit of this equation: the Griffin DJ Cable. Plug the cable into your iPad 2, start up the djay app, and you'll be on your way to not just blasting out audio, but previewing it as you connect one of your two new ports into your pair of headphones, the other connected to your fabulous gigantic speakers.
Now I'm not going to get too extremely in-depth with this app because while it's created with the ability to tend to even the most high-class and skilled DJ folk on the block, it's made simple enough for essentially any halfways intelligent and/or musically inclined humanoid to use with ease. Flip back and forth between tracks, speed up or slow down tracks, and turn up or down the tracks as you see fit. Add tracks automatically from a list or add them manually to either side as you need. You'll be able to see the music levels above the records on either side to see how far you are in the track, and you'll be able to mark any moment in the track with a pin then get back to that pin at the press of a button (these are the two buttons below the digital vinyl.) Album covers are displayed in the vinyl disks as well – it's all pretty or totally nasty depending on your own collection of tunes.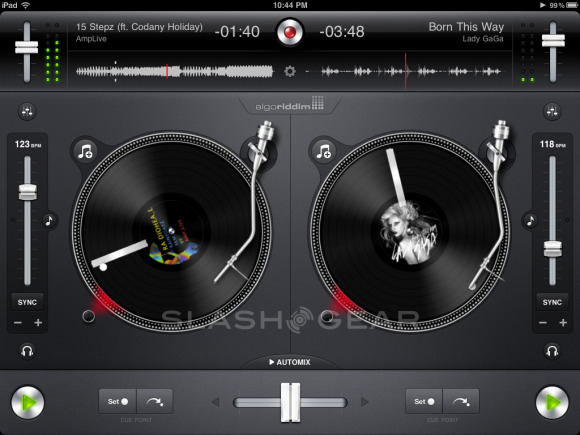 All of this is relatively simple to use, once you figure out which each of these little switches and buttons mean, you'll be able to keep your hands flying across all the bits without a hitch. One of the very awesome features on this app for all those who just want a long party from a playlist is the ability to set up that playlist, then set up an array of transitions between the tracks that use the beginning and ends of the tracks themselves to make it sound ever so natural – you could even pretend you're doing it yourself if you're a weirdo like that – no judgements!
[vms 645a25a35977997223d2]
Then comes the connection to the hardware, the simple cord splitter that plugs into the top of your iPad 2 and outputs to your high quality pair of headphones and your super awesome speaker set. What we're outputting to here is slightly less than that just for the demo because we wanted something small and something bright, but you can bet that in our tests with the big guns, there's been no ill will toward sound quality. Mostly because there's no real loss of quality between the original port at the top of your iPad 2 and your new set of ports here, one for headphones, one for speakers. The DJ Cable does what it says it does, nothing more, nothing less, and it just works. That's the theme here, working like it says it does.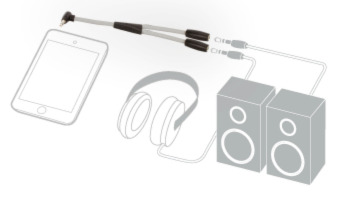 The quality of this set, the app and the hardware, is reflected by the fact that Apple uses the app for their iPad TV commercials and can often be seen to be having it featured on their in-store iPad units. As far as the cord goes: you can purchase that in any Apple store as well. It's almost as if this set doesn't need another endorsement, but here it is: try out the app, and if you like it, buy it, and buy the cord too because you're going to be glad you've got it once you've got it.
You can pick up the app on the iTunes app store for $19.99 [View in iTunes]
You can purchase the Griffin DJ Cable from algoriddim's online store for $19.99 as well [Buy it Now]
ALSO note that there's a slightly more advanced version of all this also made by algoriddim and Numark, that being the iDJ Live iPad 2 DJ station which, again, works with the same app as is reviewed here.