Nubia Red Magic Mars gaming phone brings back buttons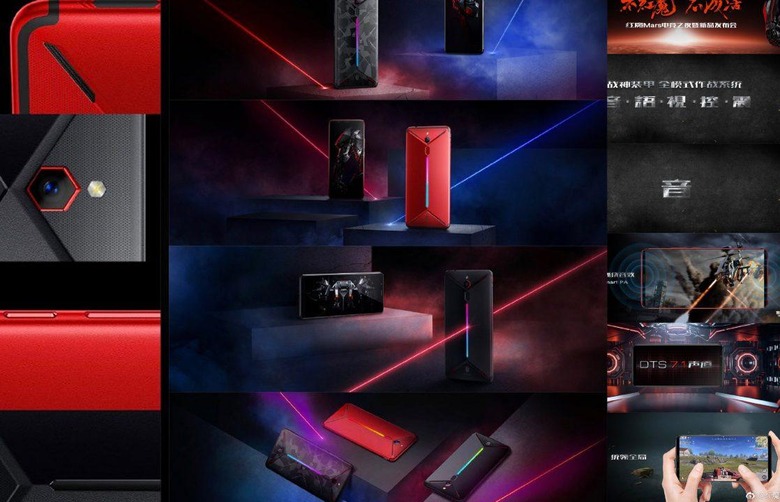 There's a gaming phone by the name of nubia Red Magic Mars coming to market, and it's a strange device indeed. This device's most tricked-out edition has 10GB RAM and 256GB internal storage, while its most modest edition has 64GB internal storage and 6GB RAM. It's a monster – and it has a pair of shoulder buttons. Because of course it has a pair of shoulder buttons, why wouldn't a phone called Red Magic Mars have shoulder buttons aplenty?
This phone is one of a new breed of smartphone – one where the manufacturer isn't afraid to release major features before Apple or Samsung. Even though many brands cow down to major players in the smartphone game, nubia's got a few features that we've never seen before – not in this form. One is ICE.
The nubia system called ICE includes dual heat pipe and convection cooling. Both of those features are inside the nubia Red Magic Mars. Because this phone is a monster and does not fit any mold for any device made before – to a degree. There is of course the original nubia Red Magic – another strange gaming-aimed phone that must've done well enough to inspire the creation of a followup phone less than a year after the initial unit launched!
The Red Magic Mars has a 6-inch IPS LCD display with 1080 x 2160 pixels across its face. There's a "4D Shock" feature inside that provides next-level haptic feedback. This phone rolls with DTS 7.1 audio with stereo speakers. The "shoulder pads" mentioned are touch-sensitive areas at the side of the phone (or top of the phone, in landscape mode). These are called "Mars Triggers" by the creator of the phone.
While the phone does not have a headphone jack, there is a USB-C dongle available from nubia that splits into USB-C and a standard headphone jack. This dongle is also a DAC – and apparently a high-quality DAC at that. It'll have to be pretty darn great for us to look past the fact that they've just recommended a dongle instead of a standard headphone jack in the device itself.
Cameras seem like an afterthought – there's a 16MP camera with f/1.8 lens on the back and an 8MP camera up front. The first version of the Red Magic phone had a 24MP camera with f/1.7 lens, for comparison – strange, yes?
Three versions of this device are set to be made available. A 6/64GB model, an 8/128GB model and, and a powerful 10/256GB model. These models will cost CNY 2,700, CNY 3,200, and CNY 4,000 respectively. That's around $388, $460, and $575 USD. This will come to China first – and maybe China only. We shall see!