NTT DoCoMo F-03A: 3.2-inch touchscreen, global 3G and 5.2MP camera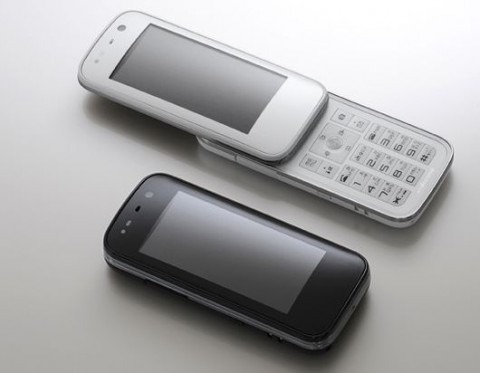 After yesterday's waterproof clamshell handset, today we have NTT DoCoMo's latest slider, the PRIME series F-03A.  Blessed with a 3.2-inch 480 x 960 touchscreen, a 5.2-megapixel autofocus camera with flash, both Japanese 7.2Mbps FOMA support and global 3G, the Fujitsu-made F-03A also supports Japan's e-payment system, i-mode and streaming TV.
There's also GPS and Bluetooth, together with USB 2.0 connectivity and automatic volume control via an ambient noise sensor; storage is courtesy of microSD cards.  Navigation with the slide closed can be done with the F-03A's on-screen scroll-wheel.
Despite the global 3G compatibility, don't expect to see the F-03A on sale outside of Japan.  It will be available to NTT DoCoMo subscribers there on January 24th, price TBA.  Does anybody else think the front panel looks like an unbranded, button-free Nokia N97?