We saw an example of how Notion Ink's Adam tablet UI would look on Friday, in the Android slate's new LongBox Digital comics app; now the start-up has revealed more about the architecture behind their UI.  No screenshots yet, but an outline on so-called "Light" and "Full" modes which automatically manages system resources depending on whether apps are full-screen or in a multi-panel multitasking mode.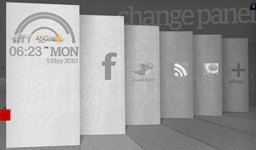 In Full mode, the whole application is loaded as normal.  However, in Light mode, Adam – and the Android OS – is left to decide which components to call, what to load, when to refresh, etc; Notion Ink call this mode Eden, with the screen split into three panels (which can be flipped and switched for others at will) and all functioning at the same time.
So, in Light mode you can monitor your email inbox, read and send basic messages, but flip into Full mode if you want to send "formatted email content".  Meanwhile apps from the Android market that are designed for the smaller displays of smartphones can each run in a separate panel, with no pixelation from artificial zooming.  A single app can open more than one panel, too.
"Using these concepts now you can compare two documents, transfer files from one folder to another, take notes from one panel and write in another, you can chat in one and read RSS in another, while third one is playing your song, read this blog and update your twitter message." Notion Ink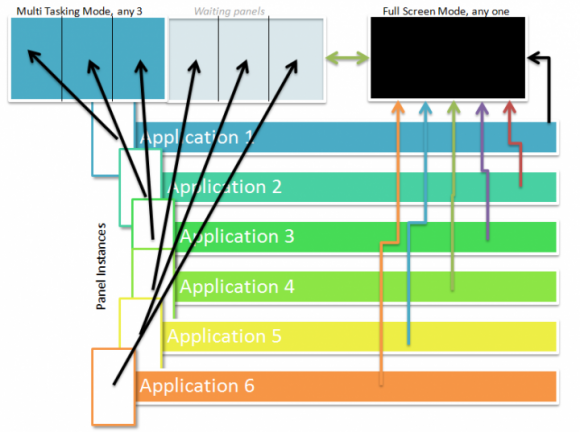 It all sounds a little like Apple's interpretation of multitasking – with apps going into "sleep" modes when they're in the background, only with certain key components (features, data-base, networking components, UI elements, etc in Notion Ink's case) still active to allow for core functionality – but taken to the next level.  Rather than the sleeping apps being used to simply save user-state and minimize RAM/CPU use, the pared down functionality means multiple apps really can be used at the same time.  We'll have to wait until we can try it to see how well it works, but it certainly sounds intriguing; Notion Ink say their decision to use Android was for the large part because it allowed for the Full/Light mode transitions and control.
Meanwhile, in the image at the top you can see the various color samples Notion Ink has created, and which would-be buyers will be able to vote on.