Notion Ink Adam II detailed: TI chipset and Ice Cream Sandwich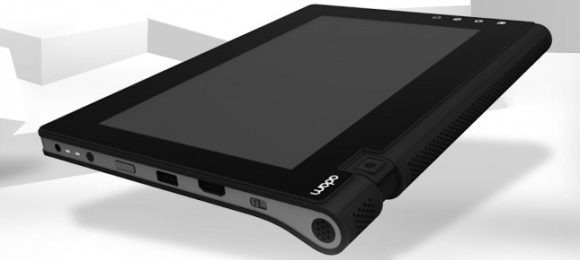 Notion Ink has announced the first details of its second-generation Adam II Android tablet, revealing a partnership with Texas Instruments and plans for using a customized version of Ice Cream Sandwich. The new tablet – seemingly called Adam II, though as far back as mid-2010 Notion Ink was talking about an "Eve" successor to its Adam first-attempt – will use a chip from TI's OMAP44xx range, jumping ship from NVIDIA and the Tegra series in the original tablet.
The OMAP44xx choice, Notion Ink says, has benefits on performance, multimedia playback and even the range of non-traditional tablet tasks users might through at the new slate. The PowerVR SGX5xx GPU paired with the chipset will, along with Notion Ink's own software architecture, mean Adam II can turn its hand to being "a logic analyzer, medical imaging device, signal acquisition and processing, 3D modeling and multi-media [device]."
TI's Wi-Link 7.0 - which pulls WiFi, Bluetooth, GPS and FM transmit/receive into a single chipset – and Phoenix Audio Power Amplifiers will also be included.
As for the software, Adam II will rely on Notion Ink's own "Modular Based Software Architecture" which will apparently allow for apps to take advantage of hardware features in a drag-&-drop environment. That, the company reckons, should mean non-programmers will able to create their own custom apps and games:
"Adam II will release the world's first Modular Based Software Architecture which will further expand the scope of application development and use nearly every single hardware feature in a "user customizable" application. Drag and drop features will enable easy application modification and Open Source Module will further expand the use cases and tablet deployment. Node operations like in Blender, and "Application Authoring Tools" are primarily aimed at non-programmers for composing applications, games and use-case flows in a drag-and-drop fashion, utilizing visual editors and behavior-based logic system" Notion Ink
The tablet market has been a baptism by fire for Notion Ink, with the company's ambitious first-generation plans giving them lessons – often painful – in how to handle excessive customer demand, aftersales care, hardware returns and more. Still, with none of the Android tablet manufacturers yet conclusively challenging Apple's iPad, we'd like to think there was still space for an imaginative alternative to the all-conquering iOS slate.
No word on when we might see the Notion Ink Adam II launch; the company has said it plans to be a little more circumspect with its public promises so as not to overhype the new model.
[via Android Community]