Note 8: Samsung Unpacked event in August confirmed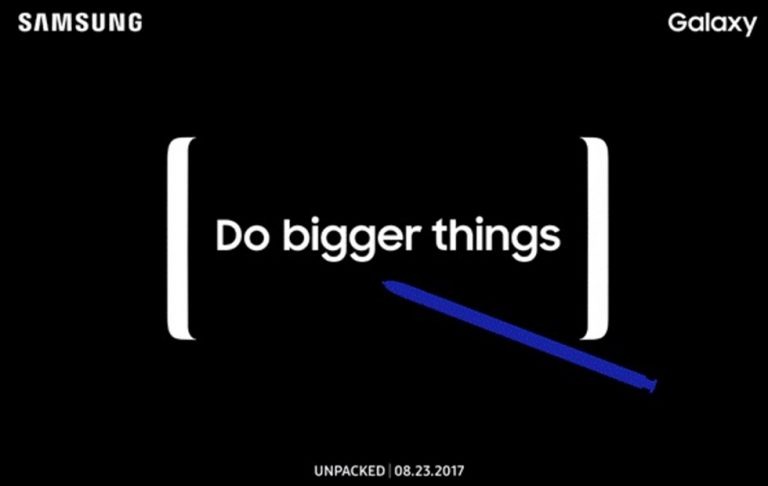 This afternoon invitations for the Samsung Galaxy Note 8 event were released to the press with a tagline: "Do bigger things." If that weren't enough to entice the public to get pumped up about the event itself, the silhouettes of the device and its new S Pen might. This event invite revealed the day of the event and the timing, too: August 23rd, 2017, at 11AM EDT (that's 11AM Eastern, New York time, 8AM Pacific.)
We've covered one whole heck of a lot of rumors about this device, including insider tips and photos of the machine in several forms. What we've got here near the end of our wait is a near-complete picture of what this device is going to look like – and a few details about what'll be inside. For starters – this Note 8 smartphone has an Infinity Display.
Further Info: Galaxy Note 8 release date tipped with mystery feature
Samsung's Infinity Display branding is basically now what "Galaxy Edge" was a few years ago. Both the left and the right of the display cascade down toward the back of the phone. The curved nature of the display panel makes the entire device feel quite unique to the brand. Unless you count the copycats, some of whom are very, very good at replicating this effect.
This Samsung event will likely focus entirely on the Galaxy Note 8 alone. In the past, Samsung has placed their Galaxy Note event in the same week as Berlin-based IFA. This year IFA takes place from September 1st through the 6th, while Samsung's Galaxy Note event takes place on the 23rd of August. That's just outside that date range, making it a basic necessity for the press masses to attend this event on separate terms.
If past Galaxy smartphone events are any indication, this Samsung event will be a big to-do show that spans at least an hour's space in time. The Galaxy Note needs a big win to make the public forget about last year's fiasco – and Samsung is in a great position now to make that happen. Have a peek at our Samsung Galaxy Note timeline below to learn more about this next-generation device.