The most recent collection of leaks of the Samsung Galaxy Note 8 suggest the presence of a massive display. This next-level display will be Super AMOLED, undoubtedly (based on our understanding of the situation, based on leaks and precedent) – but how big it'll be is the question. No matter the release date, hardware details, or anything in-between, the next Samsung Galaxy Note will almost certainly be their best-ever smartphone seller after the combined sales of the Galaxy S8 and S8 Plus.
The big difference between what earlier reports have guessed at and this latest report has said is that the display will be just a smidge larger than the Galaxy S8 Plus (6.2-inches). If this is true, the display will be 6.4-inches instead of 5.7-inches, and will roll with a mighty large amount of pixels. Instead of 2960 x 1440 pixels, this new display would have 3840 x 2160 pixels across it.
The only other device with a 4K display like this is the Sony Z5 Premium, which has this same amount of pixels across a smaller panel. At 6.2-inches, the Galaxy Note 8 would have 688 pixels per inch. At 5.5-inches, the Sony Z5 Premium has a whopping 801 pixels per inch. This would be a mighty big deal – and Samsung would put the fact that they have a 4K display up front and center of their advertising campaigns if they did indeed have one to offer.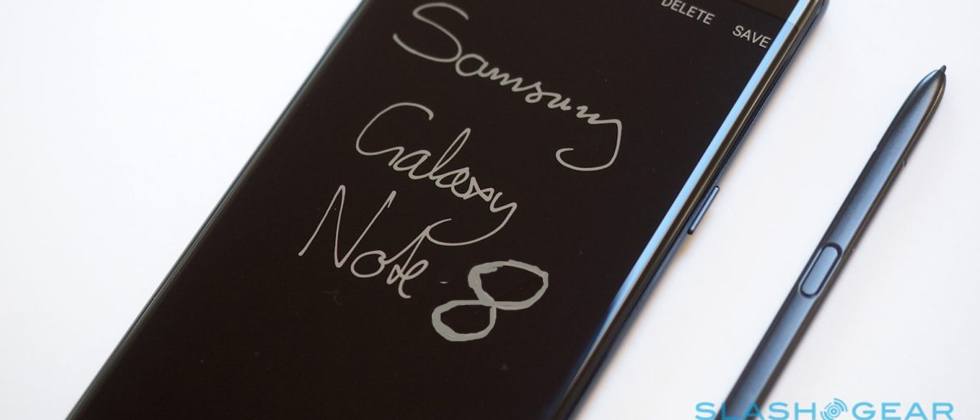 The possibility of a curved display has been present since the release of the Galaxy S8 and Galaxy S8 Plus. Not long ago executive leaks suggested that the Galaxy Note 8's display would be "marginally larger" than that of the Galaxy S8 Plus.
Samsung Galaxy Note 8 Specifications (Hypothetical)
• Display: 6.2-inch Super AMOLED 4K display (3840×2160, 688ppi)
• Display: 5.7-inch Super AMOLED Quad HD+ display (2960×1440, 529ppi)
• Processor: Qualcomm Snapdragon 835
• RAM: 6GB
• Internal Storage: 64GB, 128GB, micro-SD card slot for storage expansion
• Camera: 12 MP, f/1.7, 26mm, phase detection autofocus, OIS, LED flash, 8MP secondary (that's two lenses in one array)
• Front-Camera: 8 MP, f/1.7, autofocus, 1440p@30fps, dual video call, Auto HDR
• Battery: 4000mAh
• OS: Android 7.1 Nougat
• Connectivity: USB-C, Bluetooth 5, Wi-Fi, 4G LTE, 3G, nanoSIM, NFC
• Additional: Fingerprint Scanner near camera or embedded within display, Iris Scanner, IP68 water/dust resistance, Wireless Charging, S Pen support
The specs we're showing above come from the last several weeks of leaks, tips, and precedent. They are not official specifications, and Samsung has not released any official specifications as such. These are non-official and meant to be looked upon as possibilities, not something one would put any bets on.
Above you'll see a set of 3D renders as released by Jonathan Endicott, CEO of Slickwraps. They've clearly been working on their own models for the device, which may or may not be based on Samsung's own specifications. If they were, and they were working with Samsung directly, they'd be in big trouble by now.
The release date for the Samsung Galaxy Note 8 will likely fall in early September here in the United States. This would come after a late August Samsung special event where the Galaxy Note 8 would be revealed in full. If this date persists, we'll expect to start seeing teasers from Samsung about the smartphone within the next three weeks.
UPDATE: Another tip popped up into the rumorsphere this morning that the Galaxy Note 8 will have an "AR" edition. This would make the AR version of the smartphone an ability-equivalent of the ASUS Zenfone AR – and just as mysterious.