NOOK Windows app axed as Microsoft devs own eReader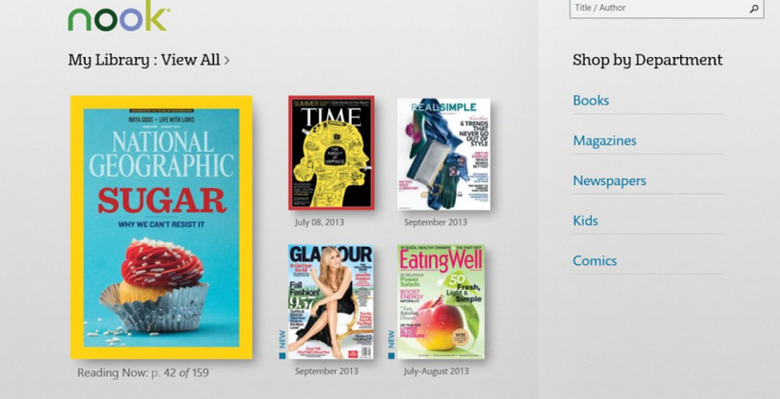 Barnes & Noble has ceased development on its NOOK app for Windows 8 and Windows Phone, and will instead simply provide content for Microsoft's own "consumer reader" platform, a regulatory filing has confirmed. Details of Microsoft's new ereader app have not been released, but B&N has agreed to help transition users of the existing NOOK Windows 8 software onto Microsoft's own – in addition to flesh out the contents of its virtual store shelves – when it's available.
The NOOK app for Windows 8 has been relatively short-lived, with B&N agreeing to develop it as part of a partnership with Microsoft back in October 2012. Then, Microsoft pushed $300m into a new subsidiary, NOOK MEDIA LLC, to fund development of the software; at the time, it was felt that an ereader app was vital for Windows 8 to be taken seriously, particularly as a tablet OS to rival iPad and Android.
The ereader software was eventually released in February 2013.
Since then, of course, Barnes & Noble's ebook fortunes have slumped, and the company has slashed its engineering team and ceased internal development of NOOK Tablet hardware. Instead, it plans to license the brand name to third-party manufacturers.
Signs that the NOOK app was on its last legs weren't in short supply, meanwhile. B&N axed all versions pre-Windows 8 in June last year, in addition to discontinuing the Mac version. Users were directed to the browser interface instead.
Now, B&N has squeezed out of its Windows 8 obligations too, though will still get some cash from Microsoft as part of a modified revenue sharing agreement. Existing users of the NOOK app on Windows will be pushed into the new Microsoft-branded app, with the latter opening automatically instead.
The release date for Microsoft's "Consumer Reader Platform" is redacted, for the public version of the document anyway.