Non-ASUS Tablets Ask: Where Is My Android 4.0 ICS?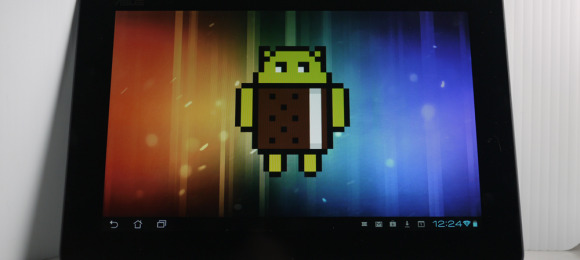 This week the folks at ASUS are pushing an update to their current hero tablet, the Transformer Prime, this being a firmware update to bring Android 4.0 Ice Cream Sandwich to a new level of potential. The ASUS Transformer Prime is the first tablet on earth to be certified for Android 4.0 Ice Cream Sandwich by Google while clones and lesser-quality tablets struggle to keep up. There's a line of high-powered tablets out there at this moment as well which consumers are waiting patiently to have updated to the newest version of Android, asking why, if it's the mobile carrier that smartphone users usually have to wait for, they're having to wait without one?
This new update to the Transformer Prime adds the ability for the tablet to connect to ethernet data (with an Ethernet to USB converter) and allows for Face Direct Unlock – this a feature missing from the original Android 4.0 build released just months ago. Many extra bits have been added as well, including an update to the ASUS Vibe app and myCloud MyLibrary. This tablet can now also show video over HDMI in either landscape or portrait mode, and this release comes with a promise that the TF101G model ASUS will be getting Android 4.0 Ice Cream Sandwich as well.
Hands-on with Transformer Prime pre-March update
So what's the holdup for the rest of the tablets out there that don't rely on a mobile network to get them data? Shouldn't it only be Google and the device manufacturer who have to work on getting Android 4.0 out to that device? That certainly might seem like the case, but the truth hurts: when you've got a tablet out there that a person does not buy on a contract with a carrier, the promise for updates only lasts so far as promised in your initial purchase agreement. In effect, the manufacturers don't really owe tablet owners anything — ASUS is, in this case, acting to show the customers that they want to remain dedicated to them: and of course want to see additional sales of the Transformer Prime before the next model is released!