Nokia UK lead is latest to jump ship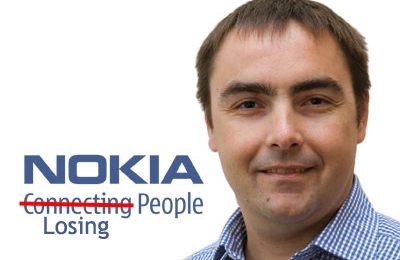 Nokia has lost another exec, in the shape of Nokia UK and Ireland general manager Mark Loughran.  Set to leave his desk for good at the end of this month, Loughran appears to have left voluntarily (rather than, as with ex-CEO Olli-Pekka Kallasvuo, being pushed) and will take up a new role as president of Pace Enterprise, a division of STB provider Pace.
"I have thoroughly enjoyed my time at Nokia and making the decision to leave such a great company has not been easy. I'm immensely proud of what we've achieved since I joined in 2007 and I leave behind an amazing group of highly talented and dedicated people. I personally feel very fortunate to have led Nokia UK and I wish Sami and all the team the very best for the future.  Nokia is well-positioned for success in the years ahead and leave Nokia UK and Ireland in great shape for the second half of 2010 with Nokia N8 and C7 hitting the streets over the next few weeks and the ongoing rollout of Ovi services and apps" Mark Loughran, general manager, Nokia UK and Ireland
Loughran's departure makes for the fourth high-profile Nokia exec to have left – or announced plans to leave – the Finnish company in the past few weeks.  Smartphone chief Anssi Vanjoki pre-empted Nokia World 2010 with the news that he was resigning from the firm, while board chair Jorma Ollila – who was instrumental in putting OPK into place as CEO – revealed he intends to step down in 2012.