Nokia smartphone chief Anssi Vanjoki quits on eve of Nokia World 2010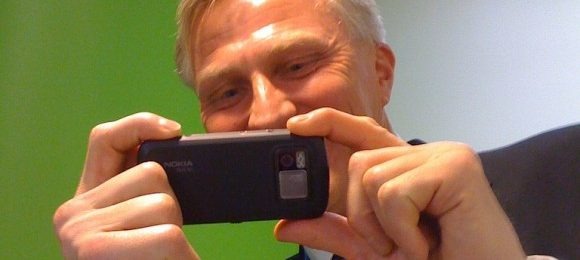 Nokia World 2010 was meant to mark the Finnish company's return to form, but it's in serious danger of being overshadowed by reshuffling – forced and otherwise – of their top execs.  Anssi Vanjoki, Nokia EVP and current head of the firm's Mobile Solutions unit (responsible for smartphones and mobile computing devices) has resigned, stating that he feels "the time has come to seek new opportunities."
The resignation follows the forced departure of Nokia CEO Olli-Pekka Kallasvuo who was fired by the Nokia board late last week.  Unlike Kallasvuo, his remaining time at Nokia is far shorter; the smartphone chief will have to work a six month notice, whereas the CEO is due to be replaced by ex-Microsoft Stephen Elop on September 21.
Vanjoki took the Mobile Solutions lead back in July 2010, with a fair amount of hyperbole and promise.  "I am committed, perhaps even obsessed," he wrote on the company's official blog "with getting Nokia back to being number one in high-end devices."  Vanjoki will also remain a key figure at Nokia World, which kicks off in London, UK, tomorrow morning, where he promises "exciting new devices and solutions."
[Image credit Rory Cellan]
Press Release:
Anssi Vanjoki resigns from Nokia

September 13, 2010 at 9.30 (CET +1)

Espoo, Finland – Nokia announced today that Anssi Vanjoki, Executive Vice President and a member of Nokia Group Executive Board has given notice of resignation from Nokia. Vanjoki, who currently heads Nokia's Mobile Solutions unit, has six months notice period and he will continue in his current tasks for the time being.

"I felt the time has come to seek new opportunities in my life," Anssi Vanjoki says. "At the same time, I am one hundred per cent committed to doing my best for Nokia until my very last working day. I am also really looking forward to this year's Nokia World and sharing news about exciting new devices and solutions."

About Nokia

At Nokia, we are committed to connecting people. We combine advanced technology with personalized services that enable people to stay close to what matters to them. Every day, more than 1.3 billion people connect to one another with a Nokia device – from mobile phones to advanced smartphones and high-performance mobile computers. Today, Nokia is integrating its devices with innovative services through Ovi (www.ovi.com), including music, maps, apps, email and more. Nokia's NAVTEQ is a leader in comprehensive digital mapping and navigation services, while Nokia Siemens Networks provides equipment, services and solutions for communications networks globally.