Nokia Board Chair Jorma Ollila reveals plans to step down in 2012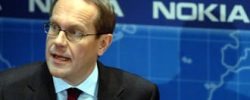 Nokia's high-profile shedding of top-level execs continues, with the company confirming that board chairman Jorma Ollila is considering stepping down sometime in 2012.  The news follows Olli-Pekka Kallasvuo's firing late last week from the position of CEO at Nokia – a position Ollila previously held, and was instrumental in elevating Kallasvuo to – together with smartphone lead Anssi Vanjoki's resignation announced this morning.
Ollila has been chairman of the Nokia board since 1999, and was also CEO from 1992 through to 2006 when Kallasvuo replaced him.  Analysts have suggested that his departure in 2012 is an attempt to signal confidence to investors, as Nokia attempt to restructure so as to better challenge iOS and Android.  We'll be at Nokia World 2010 tomorrow to see which devices, apps and services they have on hand to achieve that.