Nokia teases "something BIG", likely Lumia 625 [UPDATE]

It would appear that the fabled Nokia Lumia upgrade (larger than the Lumia 925, that is) may be just around the corner as the company itself suggests "something BIG" is on the way. With nothing more than a single NOKIA logo on orange and a teaser ringing up with "we can't tell you what it is yet", it certainly could be something we've never heard of or seen before. But with the device itself appearing in China through radio certification just last week, you'll be keen to bet on it.
UPDATE: Yeah that's pretty much a lock.
This machine works with a rather sizable 4.7-inch display with WVGA resolution – not the most fabulously sharp in the world, but certainly well enough to do the job. Powering the device is a Qualcomm Snapdragon S4 dual-core processor running with 512MB of RAM. Starting to see a trend here?
What you're seeing is a slightly less powerful than usual collection of specifications, likely aiming this machine squarely at a – believe it or not – mid-tier or even budget-friendly crowd. Saving cash on a display that's not nearly as sharp as those on the Samsung Galaxy S 4 or HTC One, coming in with a processor that's not quite as powerful as the one found on the LG-made Nexus 4, this device may very well be attempting to hit the public with its unique abilities like Nokia's ClearBlack Display technology – touch even when you've got gloves on!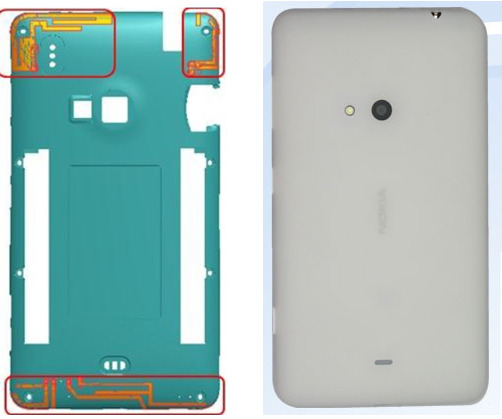 This device appeared in US FCC listings earlier this year with far less fanfare under the name RM-941 – so even though it's got a 5 megapixel camera at its back and a mere VGA-style camera at its front, this beast could very well be hitting the whole of China and the USA sooner than later.
Could you see yourself picking up this relatively massive 133.2 x 72.2 x 10.5 mm device when you've already got the 925 and – soon – the Lumia 1020 appearing as well? We'll know what it's all about tomorrow!