Nokia Smartwatch Concept May Lead Way For Microsoft Wearables Family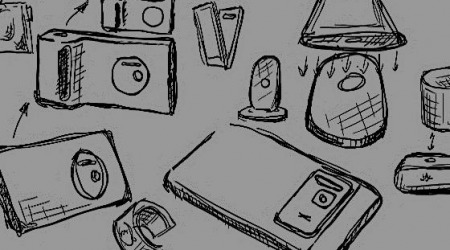 With the vision that Nokia has on its side as its devices arm is purchased by Microsoft, its no wonder that the first priority of many early adopter device and technology fans are pouring over the smartphone makers' conceptual works. What's appeared today is a product that you may – if you're a big Nokia fan – have seen before, straight from Nokia Research. This is the smartwatch device known as the Nokia Morph.
As with most concept designs as visually spectacular as this transparent piece of green glass is, there's no real solid final hardware in place. Nor is there word of software onboard. Instead you're getting a collection of images that simply speak to the call: "wouldn't this be amazing?"
The same sheet of images this concept image was re-discovered on shows devices that – by and large – have actually ended up becoming real products. Charging pads for Lumia smartphones, the Lumia 1020, camera covers for high-powered camera phones – so why wouldn't it be realistic to expect that this addition to the sketch pile be a real vision for the future?
There's always the chatter about Microsoft creating a smartwatch – why not? Everyone else is doing it – Sony, Samsung, and maybe even Apple.
Meanwhile Nokia has been bringing on some rather interesting accessories for their products as late – it wont be long before Windows Phone works with Wi-fi connected physical buttons for smartphones and easy transmittance to and from 3rd party devices (watches, in this case) – especially if Apple and Google start the part off right. Stick around and see – just because Marko Ahtisaari is heading out, it doesn't mean we should expect Nokia innovation to stop.
VIA: WMpoweruser; MSFTnerd