Apple Willow Glass "iWatch" smartwatch could be very curved indeed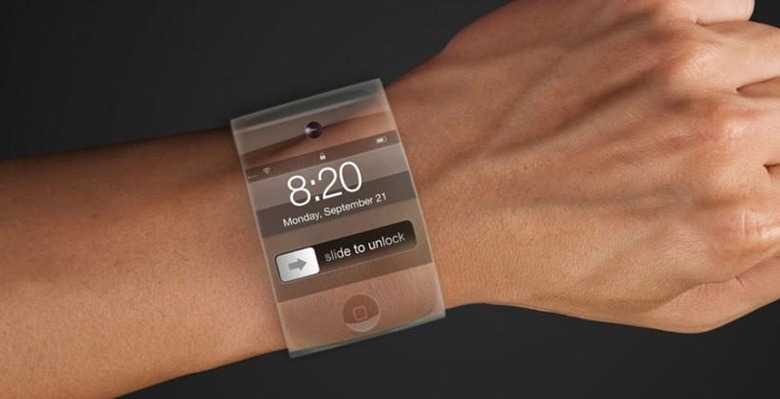 Apple's much-rumored smartwatch could be the first broadscale implementation of Corning's flexible Willow Glass, potentially opening the door to an iOS-connected timepiece that wraps its display fully around the wrist. Speculation of an Apple-made Pebble rival resurged over the weekend with chatter that the Cupertino firm was working with Foxconn on a power-efficient companion device to the iPhone, featuring a curved glass screen. Exactly how curved that might be was unclear, but according to the New York Times the flexed wearable could be wrapped entirely about the wearer's arm.
Corning revealed its Willow Glass technology last June, but the tough, flexible glass has in fact been in development for more than ten years. The material can be just 100 microns thick – making it thin enough to wave in the wind – which also helps with broad viewing angles: that could come in handy if you can only briefly glance askew at your wrist to check, say, on your latest iMessage pings.
Corning Willow Glass overview:
It's not just the flexibility that makes Willow Glass special, however. The material can also be processed at very high temperatures – up to 500 degrees centigrade, in fact – which makes it suitable for roll-to-roll production. Such systems, where assembly of display components is carried out continuously rather than in individual sheets, would likely be essential for productivity if Apple was to go into mass production for what would likely be an affordable and popular accessory.
Corning Willow Glass roll-to-roll production:
According to the NYT's sources inside Apple, the smartwatch would "operate on" iOS, though it's unclear whether that means the digital timepiece would have its own, standalone operating system, or merely act as a conduit for iPhone and iPad notifications. The colloquially-named "iWatch" is expected to use Bluetooth 4.0, the low power iteration of the short-range wireless technology, to connect to a nearby Apple device.
Exactly what it could do with that connection is unclear, though there's plenty of potential for a discrete, wrist-worn way to access data. Beyond the usual notifications for email, calendar alerts, messaging, and calls, the Bluetooth link could be used to remotely command Siri, Apple's virtual personal assistant. That would help bypass the presumed absence of a complex touchscreen interface, and address one of the biggest ongoing criticisms with smartwatches in general: that though they allow wearers to check alerts, they usually fall short when it comes to acting on them.
With Siri, however, iWatch users could reply to messages, establish new appointments, search the internet, and get navigation guidance, all by asking for it out loud. Previous rumors have suggested Apple might use a roughly 1.5-inch display – akin to the sixth-gen iPod nano, perhaps, which many buyers wore on their wrist using special third-party watch straps – though how much information would be displayed on-screen and how much would be audibly reported is unclear.
A timescale for Apple's iWatch launch is still something of a mystery, and both the company and manufacturer Foxconn have declined to comment on the speculation.
[Concept image by ADR Studio]