Nokia Release Aims To Shock Android And iPhone This Month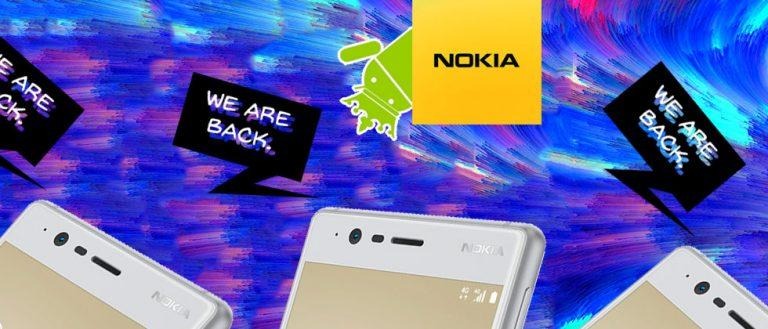 This week the folks at Nokia have revealed that they're ushering in a new era for Nokia smartphone. This is the month where users can expect a set of new Nokia brand smartphones with Android inside to be released around the world. Much like we expected to launch all the way back at the dawn of Nokia X, the Android Nokia from recently-acquired Nokia / Microsoft – this is the Android you might be looking for.
Running STOCK Android, the Nokia 3, Nokia 5, and Nokia 6 are set to take the Android-loving marketplace by storm. Or at least in an ideal world they would – if they had the right marketing campaign. But of course they don't, more than likely, given the lack of attention these devices have gotten thus far.
Of course that's all conjecture – we don't know how well these devices have sold in the very few places they're out in the wild so far. Once they're released internationally, we'll have to cross our fingers that their USA-based distributors are on task and ready to roll with the full brunt of the midrange smartphone-loving userbase that's been around since Nokia ran head-first into Windows Phone.
While Apple's iPhone has remained largely similar generation-to-generation over the past several years, Nokia's been off the market. Nokia Lumia phones with Windows Phone never outsold the iPhone – nor did they outsell the Samsung Galaxy line – but users remain excited to own another. Take a peek at Reddit right now and see how pumped up the Android-loving smartphone user comments are.
Nokia Windows Phone devices were really great – or at least their hardware was. Batteries lasted an extended amount of time and cameras were decent – if not revolutionary for their time. Have a peek at our original Nokia Lumia 920 Review to see what some of the fuss was about. Then behold our original Nokia Lumia 520 Review to see what the rest of the fuss was about.
ABOVE: Nokia 3 as presented by Nokia Mobile. BELOW: Nokia 5 as presented by Nokia Mobile. Both of these devices will become available internationally later this June.
Even despite the inevitable doom of Windows Phone software, Nokia smartphones were great. Here in 2017, we have no good reason to assume they'll be anything but great again. The people behind the designs and construction of Nokia phones in 2017 have the access and the knowhow necessary to make hearty smartphones for relatively low prices.
The release of the Nokia 6 will very likely come just before the Nokia 5 and Nokia 3. Going by the schedule shared for international consumers to the smartphone sales outlet Clove, Nokia 3 and Nokia 5 will be available starting on June 30th, 2017.
Pricing for each smartphone will be revealed when the devices hit the market, or just before. If we're to go by the prices Clove has listed, the Nokia 3 will cost around $160 (converted to USD straight from GPB), the Nokia 5 will cost around $240, and the Nokia 6 will cost closer to $300.
Have a peek at the timeline below for more information on all three of the next Android devices from Nokia. This is not a Nokia X situation. Do not worry about the brand trying to use Android to make you want to use Windows Phone! It's time Android came back to stock!
[nokia]