Nokia Ovi Maps SR4 released: faster, WiFi positioning & Qype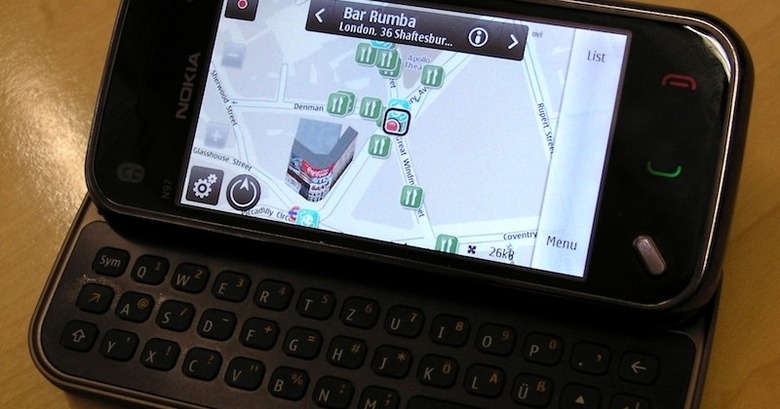 Fifteen times around the world every day; that's the distance Nokia's Ovi Maps guides users every day, and with the quiet introduction of Ovi Maps SR4 (v3.0.4) that number is likely to get even bigger. The first significant update since Ovi Maps went free four months ago, Nokia have already passed the 10m download mark and, while they're not talking updated figures quite yet, are still apparently seeing a new download every second. Ovi Maps SR4 brings with it over 2m kilometres of newly navigable roads, boosts points of interest (POI) to over 25m and speeds up zooming and searching, not to mention slipping in Qype reviews and recommendations. We sat down with Marcel Duee, Places project manager on Nokia's Ovi Maps team, for an update on why SR4 is special and what's still in the pipeline.
Update: Video demo of Ovi Maps SR4 on a Nokia N8 after the cut!
The first thing Ovi Maps users should see is increased speed, both of the app itself and of the positioning lock. Nokia have developed their own WiFi triangulation system, which now means you're more likely to get a positioning fix while indoors or in "urban canyon" style built-up areas. They've also set up a dedicated team to track hotspots, and the WiFi positioning system will be available as an API for other location-based services (LBS) to access on compatible Nokia devices. Meanwhile to speed positioning in larger countries, such as the US and China, Nokia have used a nifty shortcut to narrow down GPS/A-GPS positioning by factoring in cell tower ID.
While the technology might be getting more complex, the Ovi Maps UI has been tightened up. User feedback said the positioning indicator was too easily confused with the data meter, trying to give too much information when people only wanted to know if they had a fix or not, and if so how accurate it was. Now there's a better partial-fix display, defaulting to a zoomed-out view that shows the limits of its accuracy. Zoom in, meanwhile, and that radius disappears so as not to overlap with the 3D landmarks, which have also seen a boost in number. City searches, meanwhile, default to a zoomed-out view that encompasses the whole city, rather than zooming in to the closest level.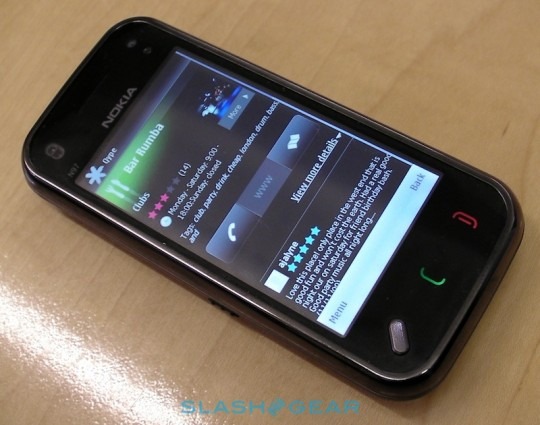 Duee is particularly pleased with the Qype integration, which currently shows up as a new POI icon on the map itself and as an information source alongside wcities in a POI profile. Tapping that shows user ratings, information and reviews, all within Ovi Maps itself, plus you can tap through to more informationon Qype's mobile site. Right now you can't add your own Qype reviews through Ovi Maps, however, only rate the POI as before.
Nokia are pushing out nine "navigation packages" which will bundle an in-car holder and charger with an Ovi Maps compatible phone, and soon any Ovi Maps device will come with those accessories as standard. According to Duee, they're also looking at other accessory possibilities, for instance tailored to the bike and pedestrian navigation guidance Ovi Maps offers.
As for what's further down the line, as part of their recent corporate reshuffle the Ovi Maps teams have been made more focussed, and the end result of that should be faster releases in future. That should also include quicker NAVTEQ mapping data updates, and Duee's team are looking at ways they could improve distribution for future releases, rather than users downloading a whole new version every time. They're also considering how they can build user contribution into map and POI accuracy, whether that be a TomTom-style on-device flagging of incorrect roads, addresses or numbers, or some other system. What's telling, though, is the amount to which Nokia are relying on consumer demand to shape the Ovi Maps service. Faster positioning, for instance, wasn't top of the team's list to tweak, but in-app feedback showed that it was at the top of the users' list, and so it got prioritised.
Ovi Maps SR4 on Nokia N8:
We also asked Duee what he'd expect – or at least like – to see in five years time. He reckons that mapping and navigation will evolve to be a central context layer in mobile devices, not just an app you dip into to get from A to B or find a nearby restaurant. That might include augmented reality (AR) and Latitude-style updates on when friends, family and different social groups are nearby, but it will also likely incorporate new interaction technologies like voice search. Since Ovi Maps is integrated into a phone with a camera, you could take a photo of something and use that as a search trigger: pull up a digital menu from a photo of a restaurant sign, for instance, or get route information by snapping a shot of a bus stop. He's also looking to gaming and online collaboration.
That's all still to come, of course; for now, Ovi Maps SR4 (v3.0.4) is faster than before, looks better and packs more information. It's available to download free from maps.ovi.com today, complete with new mapping data for Malta and the Maldives, among other places, and as before you can store maps on-device and not pay a cent in data fees while you're on the move. Let us know how you get on!