Nokia N97 Mini spotted cavorting with big brother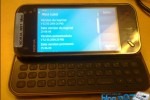 Images of the Nokia N97 Mini have leaked, showing the rumored compact version of the company's flagship touchscreen smartphone next to its full-sized N97 sibling.  Tipped to arrive in the second-half of 2009, the phone is shorter than the existing N97 and swaps the distinct directional pad on the slide-out keyboard for more traditional arrow buttons.
It also keeps the offset space-bar, which is disappointing, while around the back the camera lens-cover has been lost.  Full specifications are unknown, but we're presuming that the N97 Mini will be a cut-down version of the N97, perhaps dropping WiFi but keeping the widget UI, HSPA connectivity and social network integration.
Still no official word from Nokia themselves, so this could in fact be a well-designed fake or copy.  Alternatively, we could be hearing more about it at Nokia World later on in the year; a representative from Vodafone Ireland has already suggested that the N97 Mini is Nokia's attempt to "appeal to a wider segment of customers".