Nokia N97 gets June worldwide launch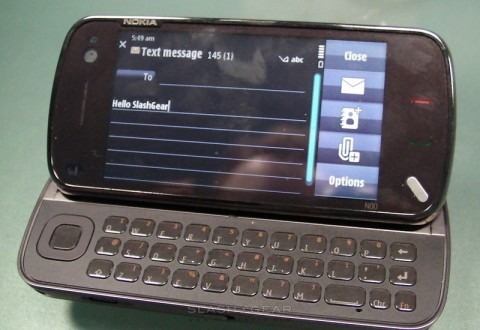 Nokia have announced that their N97 flagship smartphone will go on sale worldwide this month.   No word on pricing for any of the 75 countries that will soon be getting the 3.5-inch touchscreen handset, nor specific availability dates, but the UK will apparently get it on unlocked and SIM-free from Nokia themselves as of June 19th.
SIM-free, the N97 is priced at around £500; that will be followed by a June 26th launch on the various carriers in the UK, with no word on pricing but a clear possibility of picking up the N97 free with a sufficiently expensive tariff.  The N97 is already available to preorder in the US, priced at around $455 after discounts.
Your money gets you a slide-out QWERTY keyboard, S60 5th Edition OS, WiFi, GPS, HSPA and of course that 3.5-inch resistive touchscreen.  However we're also wary of the potentially low-powered CPU Nokia have fitted the N97 with; we'll have to wait for the final model to see if that undermines the smartphone.
Press Release:
Nokia N97 mobile computer to begin selling worldwide in June

Espoo, Finland – The highly anticipated Nokia N97, Nokia's flagship mobile computer, will begin selling in June in more than 75 countries. Along with a tilting 3.5" touch display, QWERTY keyboard and a fully customizable home screen, the Nokia N97 will offer instant access to the full range of Ovi services.

"The Nokia N97 is an important step towards our vision of delivering a highly personalized Internet experience," said Jonas Geust, Vice President and head of Nokia Nseries. "Fuelled by a multitude of music, maps, games, media and applications via Ovi, the Nokia N97 transforms the Internet into an experience that's completely tailored to the tastes and interests of its owner."

The Nokia N97 is Nokia's first device to feature a personalizable home screen, which can be customized with a range of widgets which bring live information directly to the device. These widgets include key social networking destinations like Facebook and Hi5, news services like the Associated Press, Bloomberg and Reuters, as well as shopping and weather information. The Nokia N97 is the first device to ship with the Ovi Store, which offers easy access to applications, games, videos, podcasts, productivity tools, web and location-based services, and much more. Ovi Store has paid and free content from a range of global and local content providers and developers, including Paramount Pictures, Facebook and Qik, as well as a selection of Twitter applications.

Enjoy your upgrades

The beauty of this Nokia device is that taking it out of the box is just the beginning. As with any computer, people can constantly improve and refresh their Nokia N97 with new features, functions and fixes so they can do even more with the device. An exciting roadmap of new features and functions is planned to roll out in the second half of 2009.

Entertainment ensured

The Nokia N97 also has direct access to the huge catalogue of music in the Nokia Music Store. With multiple high-speed connectivity options and 32GB of storage (up to 48GB using a microSD card) it is possible to directly download and store tens of thousands of songs on the handset. And you can listen to your favourite music on the Nokia Bluetooth Stereo Headset BH-905, which Nokia also launched today. This headset brings crystal clear sound, eliminates background noise, and is the ideal accessory for listening to music and making calls on the Nokia N97, as well as being compatible with a diverse range of other mobile and music devices.

High-quality images and video clips at 30 frames per second (fps) can be captured using the 5 megapixel camera with integrated Carl Zeiss optics. Images can also be geo-tagged to specific locations and shared instantly with friends or uploaded online via Ovi Share, Twitter or Flickr.

About Nokia

Nokia is a pioneer in mobile telecommunications and the world's leading maker of mobile devices. Today, we are connecting people in new and different ways – fusing advanced mobile technology with personalized services to enable people to stay close to what matters to them. We also provide comprehensive digital map information through NAVTEQ; and equipment, solutions and services for communications networks through Nokia Siemens Networks.