Nokia N97 official preorder just $454.35!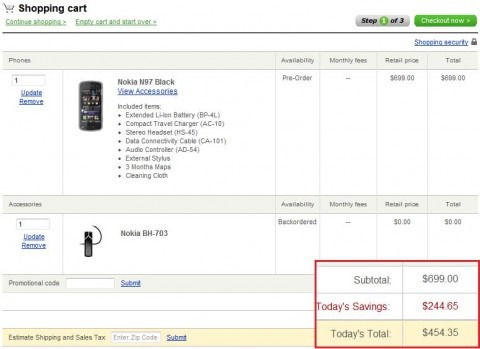 Nokia seem determined to slice off as much of their profit margin on the N97 as possible, offering huge discounts on the flagship smartphone before it's even released.  Currently available to preorder, Nokia are throwing in an instant discount on the N97 that amounts to $174.75; then, with the addition of the promo code CARTP409N, the price comes tumbling even further, down to just $454.35.
That's almost $250 off the MRSP of $699 for the unlocked US-spec handset.  Nokia also throw in their BH-703 Bluetooth headset, which usually retails for $89.95.  Shipments are expected to being in July 2009.
Nokia recently confirmed the N97's processor, and the news wasn't good: the smartphone uses an ARM11 434MHz CPU, which is actually slower than the company's own XpressMusic 5630, which has a 600MHz processor.  Check out our video hands-on with the N97 here.
[via Engadget]