Nokia N920 leaks? Non-QWERTY capacitive Internet Tablet tipped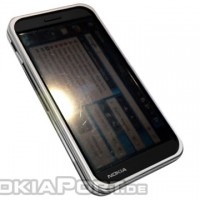 We're inherently sceptical of anything blurry that's claiming to be a prototype, so throw some salt over your shoulder and take a look at what's tipped as Nokia's next-gen N9xx-series Internet Tablet device.  According to imobile365 the Nokia N920 will be a touchscreen-only device, using a 4.13-inch capacitive touchscreen rather than the N900's 3.5-inch resistive panel and supporting multitouch gestures on Maemo 6.
Other specifications are pretty much in-line with what we've seen on the Nokia N900 already, which means WiFi, Bluetooth and GPS, together with integrated UMTS/HSPA.  There's some speculation that the repositioned Nokia logo is a sign that the company see the N920 as more of a VoIP-centric phone device than the N900 (which currently has minimal portrait-orientation display support) but that's all theory right now.
To our eyes it's all a bit render-like, and we're not sure Nokia would go with something quite so iPhone-like in design; the N900's dark-finish metal highlights and bezels are far classier, we reckon.  Still, according to the rumors the N920 should be upon us in mid- to late-2010, pretty much the same timescale as Maemo 6 itself is tipped.
[via Pocketables]