Nokia N900 video unboxing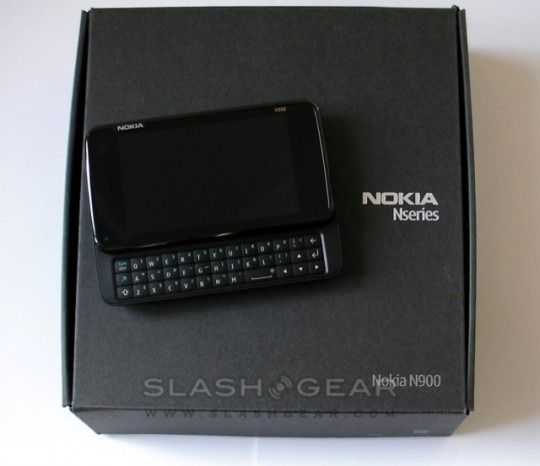 The Nokia N900 was the stand-out device from Nokia World back in September, and we've been tracking the Maemo 5 smartphone ever since.  Imagine our surprise, then, when a pre-release N900 dropped onto the SlashGear test bench today; the hardware is final, so the 5-megapixel autofocus Carl Zeiss camera is onboard, together with HSPA, WiFi b/g, a 3.5-inch 800 x 480 touchscreen and slide-out QWERTY keyboard, and you can check out our video unboxing and gallery after the cut.
However, Nokia are at pains to point out that the software this N900 is running isn't final, so we'll be holding off on our full review until we get the final build.  That doesn't mean we won't have plenty of hands-on articles, feedback and video demos before then, however, and if you've any questions about the N900 then we'd love to hear them; anything we can't answer, we'll put to Nokia to get a definitive reply.
The Nokia N900 is currently available to preorder in the US and UK, priced at $649 and at £499 respectively.  Early suggestions tipped a late-October release, though Nokia UK are currently suggesting the N900 won't arrive until November 2009.  Until then, enjoy the unboxing video and gallery below!
Nokia N900 unboxing video:
[vms 5a9a6f1252739b1ad8c2]