Nokia N900 ships today; Maemo enhancements get video demo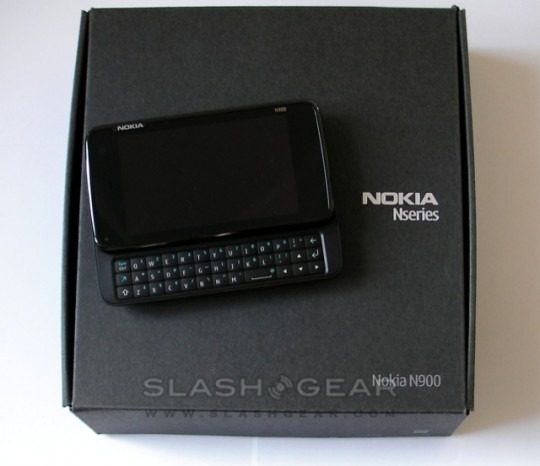 SlashGear is at Nokia's The Way We Live Next 3.0 conference in Helsinki, Finland this week, and the company has just confirmed that the much-anticipated Nokia N900 Maemo smartphone will be shipping today.  We've been told that the handset – which has a 3.5-inch resistive touchscreen and slide-out QWERTY keyboard – went out from Nokia's production facilities over the weekend, with shipments of the handset beginning in Europe, the Middle East, Russia and North America.
Video demo of N900 Maemo 5 enhancements after the cut
Meanwhile, Peter Schneider of Nokia devices research & development pulled out his own N900 at the TWWLN3.0 conference to demonstrate a few of the newest enhancements to the Maemo platform, and we grabbed a quick video of the smartphone in action.  Among the functionality is an app which periodically pulls down contact profile photos and automatically syndicates them out to the various social networking and address book databases across the Maemo handset.
Incidentally, this also demonstrates one of the N900's frequently unsung skills: it ships with a video output cable in the box, ideal for big-screen presentations or entertainment.  Curious as to what your first experience with the N900 will be like?  Check out our unboxing video below, together with some hands-on first impressions here.
Nokia N900 enhancements:
[vms a3f7cba1e6c53e8fa684]
Nokia N900 unboxing:
[vms 5a9a6f1252739b1ad8c2]