Nokia N900 Maemo 5 Shown Off In Very Vibrant Video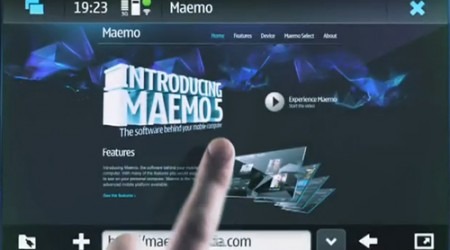 Nokia World is coming. Did you get the memo? Or, should we say, Maemo? If you didn't, you probably still already know about it, considering "we've covered" already. And starting tomorrow, the news will start to take on a far more official standpoint. Not that the Nokia N900 isn't official, because it certainly is, but sometimes getting the information from the horse's mouth is a lot better. And who can say no to press events? We certainly can't. But just in case all those still images of the upcoming Rover weren't doing it for you, here's a video of Maemo 5, the User Interface (UI).
Yes, we've got videos of the thing running in the live, but some times a cool, loud, and vibrant visual aide doesn't hurt. Especially in this case. We think it's about time for Maemo 5 to get here, so we're basically counting down the days until October, when the Rover "finally starts" to see its way onto shelves, and into (more) people's hands.
We like the transitional desktop that they've got going for the Rover, and the fact that we can supposedly keep every application running, all the time. If this actually pans out the way Nokia intends it to, then this could be a very compelling piece of technology. Of course, price is always a factor, so let's hope that $700 price tag finds its way down the ladder, and quickly. Are you getting one? Or has Nokia run its course for you?
[via Boy Genius Report]