Nokia Lumia 920 appears in five color leak

Another image has appeared showing off what very well may be the hero device at this week's Nokia/Microsoft event, this being the Lumia 920, a Windows Phone 8 smartphone for the next generation. This model has been leaked with information leading us to believe that it'll be working with PureView technology in its 8 megapixel camera, this notion all but confirmed by Nokia's PureView chief this morning. His comments including how "it's NOT about the number of pixels but what you do with them" appearing as a direct response to criticism over the not-yet-confirmed Lumia smartphone.
This newest image shows the Lumia 920 in a variety of colors, the white and the black casings being ones we'd not yet seen at this point in time. The rest of the leaks suggest that this device will indeed be running Windows Phone 8 complete with its new smaller set of tiles for a more diverse range of abilities on the device's home screen. This device will likely be popping up with a dual-core processor from Qualcomm and will have both front and back-facing cameras.
You'll see a volume rocker on the right along with the power button and a physical camera shutter button as well. The whole model appears quite similar to the previous Nokia smartphone range with Windows Phone, particularly in the case of the Nokia Lumia 900. Nokia will be continuing their image branding here and will be pushing hard with Microsoft to keep the Windows Phone universe strong – and growing, of course.
The Windows Phone 8 mobile operating system from Microsoft will be part of the company's big push for the next generation of Windows software on the whole, this including Windows 8 and Windows RT for tablets as well. Stay tuned for more information on Nokia's contribution to the party as we head to the New York media event tomorrow bright and early – be here at 9:30 AM EST for all the newest blasts straight from Nokia!
BONUS: the back of the Nokia 820 has also been shown by the same source – in purple!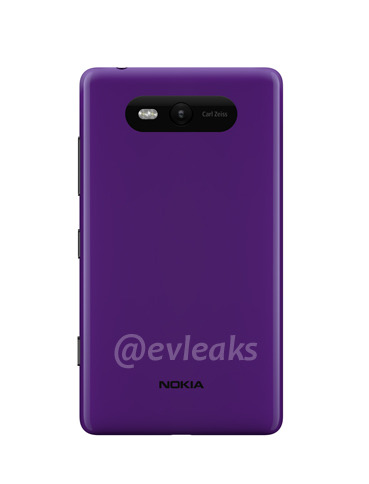 [via evleaks]