Nokia Lumia 720 Review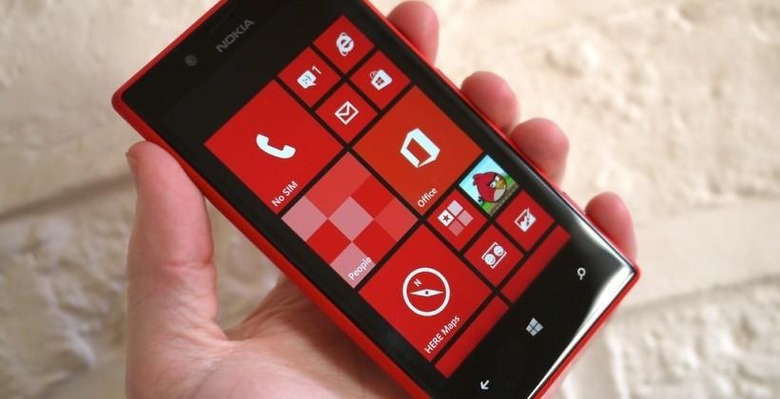 Nokia's Lumia range is, depending on those you ask, either getting crowded or becoming more flexible, with the new Lumia 720 slotting in-between the 620 and the older 820. With its 4.3-inch screen adding up to a pocket-friendly size, the Lumia 720 makes a strong argument for the Windows Phone midrange. Still, we've already praised the Lumia 620 for punching above its station, so does the 720 really carve out enough of a difference to make it worth consideration? Read on for the full review.
Hardware
Nokia's familial design language is clear in the Lumia 720, and it's one of the more pleasing handsets to look at and hold in the company's range. Narrower sides but wider top and bottom bezels make for a phone that's slimmer but longer than the Lumia 820 it most closely resembles, though the 720 shaves 0.9 mm off the depth (taking it down to 9 mm).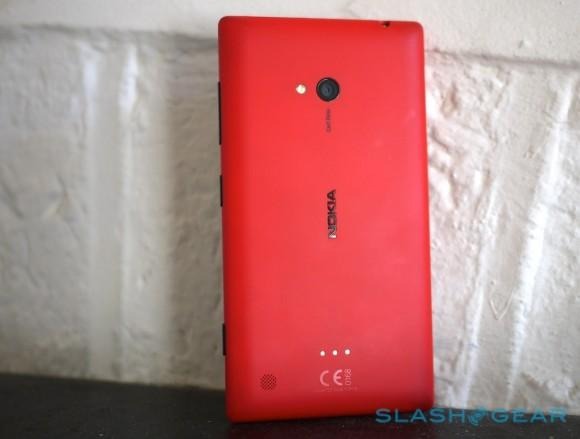 There's a compromise involved in that, though, which is that while wireless charging is an option, it's not baked into the Lumia 720 natively. Instead, you have to slot the phone into a secondary skin, which makes contact with a row of pin-connectors running along the lower section of the rear. Then, it's compatible with any Qi-compliant wireless charger, including Nokia's own accessories; unfortunately, Nokia didn't have the adapter shell available for us to test.
Bare, it's a sturdy unibody with a smooth, matte finish; the red of our review unit is particularly fetching, but Nokia will also offer the 720 in white, cyan, yellow, and black. A Micro SIM-tray on the upper edge means Nokia can keep the back cover fixed – which also means no removable battery – while on the right side there's the usual volume rocker, power/lock key, and camera shortcut. A microUSB port is on the bottom edge, and finally another pop-out tray on the left for a microSD card slot (to add to the 8GB of internal storage).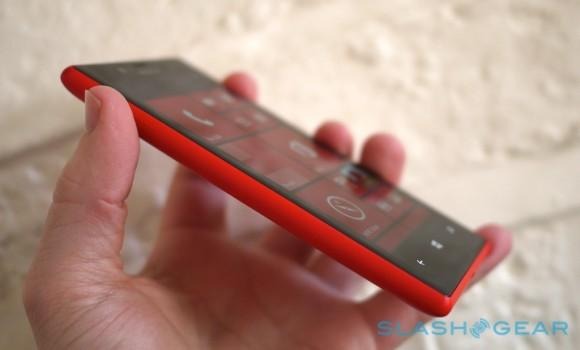 Nokia has been pushing two screen technologies of late, Clear Black for better contrast and outdoor usability, and increased sensitivity for the touchscreen meaning it will work even when you're wearing gloves. Both are present on the Lumia 720's 4.3-inch panel, a bright and colorful screen let down only by its mediocre resolution. At WVGA, rather than 720p, you miss out on the smoothness we've seen on other, more expensive phones. Admittedly, the effect is diluted somewhat by the smaller size overall, but we'd still loved to have seen an HD screen.
Inside, Qualcomm's 1GHz Snapdragon S4 chip holds court, paired with 512MB of memory. Nokia may have omitted wireless charging, but you still get quadband 21.1Mbps HSDPA, quadband GSM/EDGE, Bluetooth 3.0, WiFi b/g/n, and NFC. Above the display there's a 1.3-megapixel camera with a wide-angle f/2.4 lens, while a 6.7-megapixel camera with f/1.9 Carl Zeiss optics is on the back, next to an LED flash. The latter will record 720p HD video, though not Full HD.
Software and Performance
Windows Phone 8 hasn't deviated from what we last saw on a new Nokia, and so it's all becoming familiar territory for both the firm and its users. The OS is undeniably approachable for first-time smartphone buyers, and while it doesn't have widgets in the traditional sense, the Live Tiles system – where each of the resizable blocks can cycle through recent updates, media previews, upcoming events, new messages, and other information – can, with a little investment in setup time, be surprisingly rewarding. If you want to fill the homescreen with a grid of contact shortcuts, you can, or alternatively you can replicate an iOS-style layout with simple app buttons.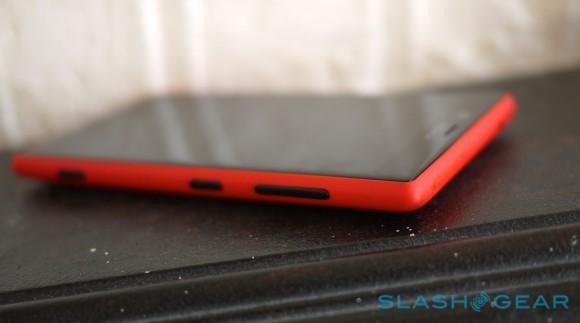 On top of that, Nokia throws in its own value-add, the growing suite of exclusive apps and services which the Finnish firm hopes will coax you away not only from Android or iPhone, but from other Windows Phone OEMs like HTC. Most notable are HERE Maps, HERE Drive, and Nokia Music, though there are a few tweaks along the way.
HERE Maps, for instance, now gets LiveSight and HERE Transit baked in, integrating the previously standalone City Lens and Nokia Transit technology within the one core app. LiveSight allows you to hold the Lumia 720 up and look "through" it at points of interest overlaid on top of a real-world view from the camera. It's useful, particularly being able to zoom past buildings and see what's behind them, if you're in a new area, and the Nokia's processor has no issues keeping up as you physically spin around to pan the camera.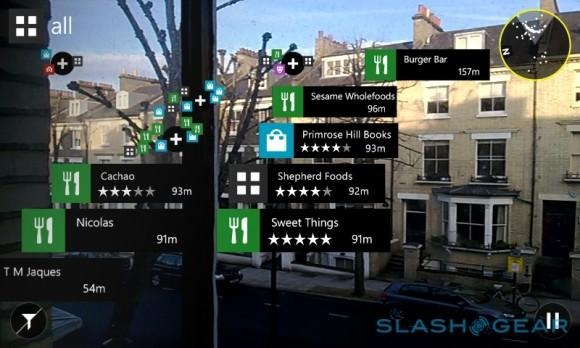 HERE Transit, meanwhile, shifts the incredibly useful public transportation guidance into the core HERE Maps app, where it belonged all along. Nokia says it now has timetable data for more than 670 cities in 50 countries worldwide, with the ability to pin specific routes to the Windows Phone homescreen (and see, on a Live Tile, the next upcoming journey time).
What you don't get is HERE Drive+, with global offline navigation. Instead, those in the UK will get UK and Ireland maps with offline support, but have to pay extra if they want navigation data for elsewhere in the world.
Nokia Music, meanwhile, continues to offer a compelling alternative for those shy of Spotify's monthly subscription fee. Sign-up free, it offers 100 Mix Radio playlists that Nokia updates weekly, picking from a catalog of 22m tracks, the ability to create your own custom playlists triggered from an original "seed" track, and support for a limited number of offline playlists. The Nokia Music+ subscription service – an in-app upgrade – unlocks unlimited offline playback, as well as higher-quality audio on WiFi connections, and unlimited track-skips.
Last year we criticized Nokia's Lumia 610 for coming to market with 256MB of RAM when the latest apps were calling for double that. The Lumia 720 makes a similar mistake – less serious initially, but likely to be no less frustrating over the course of a two-year agreement – with its 512MB looking short-sighted when apps demanding at least 1GB are starting to arrive in the Windows Phone Store.
Camera
Nokia's 6.7-megapixel camera for the Lumia 720 uses a custom sensor and the company's favorite Carl Zeiss optics, though falls short of PureView branding. Nonetheless, it's a capable shooter, particularly in the sort of low-light settings we've praised PureView devices for previously.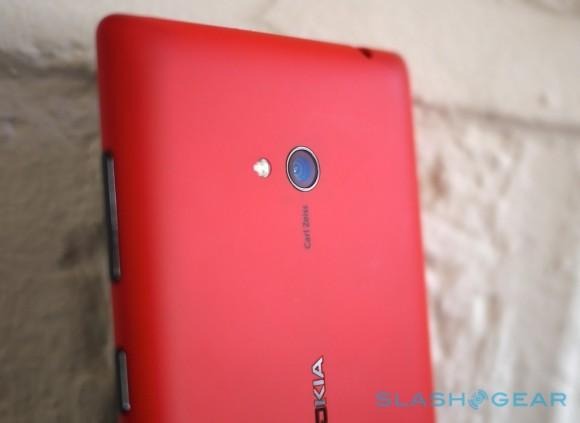 So, you don't get optical image stabilization, but you do get a camera that doesn't lose its nerve when it comes to scenes with mixed bright and dark areas. There, the Lumia 720 leans toward maintaining detail in the low-light patches – though that can leave brighter scenes over-exposed – with results that belie the mid-range positioning of the phone. The LED flash is satisfactory, but we found we could often leave it switched off and rely on the camera's inherent light-grabbing skills.
On the flip side, both photos and video (recorded at 720p maximum on both front and back cameras) have a tendency to introduce glare and lens-flare when you're in brighter environments. Otherwise, video from the Lumia 720 looks solid, and the continuous auto-focus does a reasonable job at keeping your subject clear.
Our interest in front-facing cameras usually begins and ends with the odd Skype video call, but Nokia has made a specific play for those particularly keen to take self-portraits. As well as being equipped with a wide-angle lens, to fit more people in-shot, the Lumia 720 supports the new, wretchedly-named Glam Me app, which automatically enhances your selfies. Brightness, skin smoothness, blemishes and more are all ironed out, tweaked, and generally finessed; alternatively, you can apply one of several filters, with Instagram-like textures and color tones.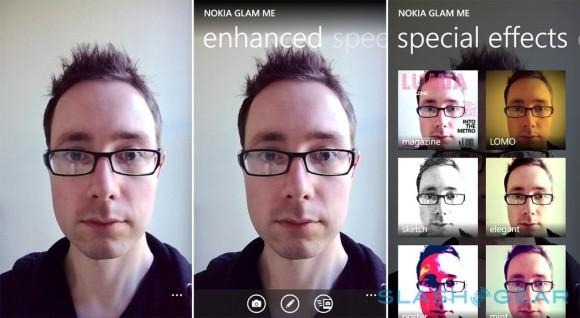 Phone and Battery Life
Nokia's legacy for decent call quality continues with the Lumia 720, though the relevance of voice calls alone is perhaps questionable these days. Instead, we can't help but feel that omitting LTE support was a missed opportunity.
The Lumia 720's battery may be non-removable, but at 2,000 mAh it's oversized for a 4.3-inch phone. That pays obvious dividends for runtimes: Nokia quotes up to 13.4hrs of talk time or up to 520hrs of standby (both on 3G), or alternatively 79hrs of music playback (locally-stored, not streaming).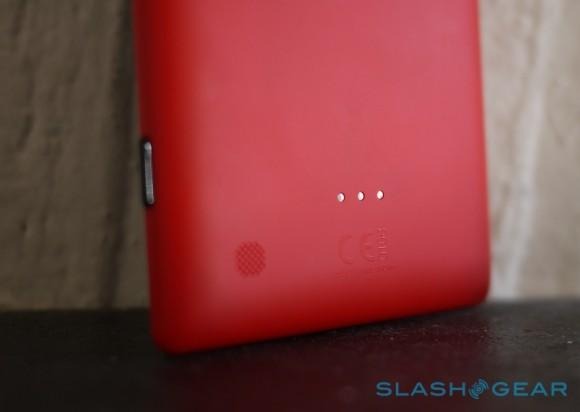 In practice, with regular use – push email turned on, social networking use including Facebook and Twitter, some photography, music streaming, and HERE Maps – we easily made it through two days without having to reach for the microUSB charger. That's almost enough for us to forgive the fact that wireless charging (or the kit needed to use it) isn't bundled.
Wrap-Up
In some ways, the Lumia 720 is everything we've asked for from Nokia. It's slickly designed and has superlative battery life, the camera out-performs rivals in the same price bracket, and the screen – though lower resolution than we like – is a nice compromise of size, outdoor usability, and general clarity.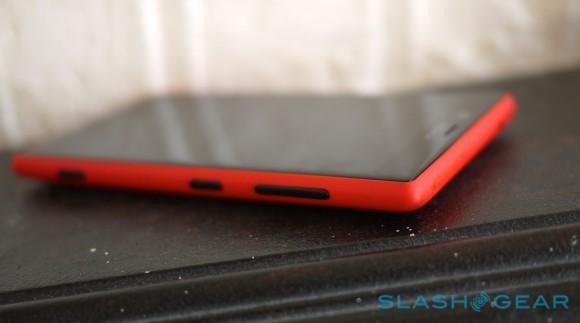 Letting the show down are the absence of LTE and the potentially limiting 512MB of RAM. You could well say that the Lumia 720's target audience won't miss 4G, but there's a growing cadre of people wanting higher-end features without a massive display, and they already know they want LTE. As 4G spreads, more and more people are going to expect it to on their phone. As for the RAM, that's a more obvious drawback: games like Temple Run are quietly omitted from the Store, since they demand twice the memory the Nokia has.
It's a frustrating flaw in what could've been a fantastic device, though the strengths in camera and battery life still make it a solid choice in the midrange.