Nokia Lumia 620 Review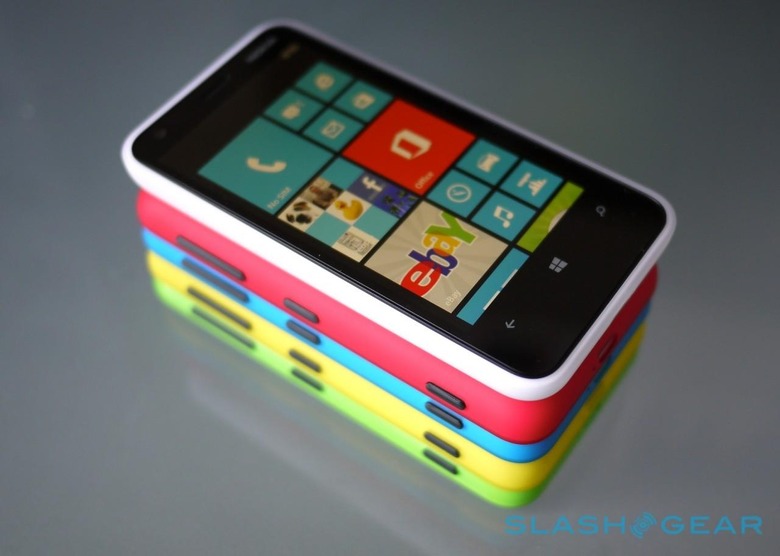 Here's a spoiler: Nokia's Lumia 620 is arguably the most balanced device in the company's current line-up, and it makes a case for being the best mainstream smartphone on the market today. Excessive praise for a cheap Windows Phone? Perhaps, but when it comes to blending price, specifications, size, and flexibility, the Lumia 620 ticks plenty of boxes for the everyday consumer, as well as demonstrating exactly what it is that still gives us hope for Nokia in the future. Read on for the full review.
Hardware
It's XpressCovers all over again; only better. Nokia has played with interchangeable covers for its Windows Phone range before, but the Lumia 620 has the most eye-catching system yet. Multiple color options out of the gate – Nokia expects the Lumia 620 to be popular with teenage users, first-time smartphone adopters, and geeks needing a second device, so is covering its bases with hue and finish – make for a readily customized handset that recalls S40 devices of old.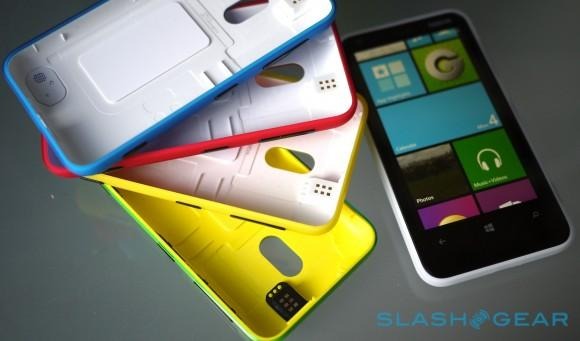 That's not to say the covers are old-tech. Our positive impressions start with the quality: the Lumia 620 may be offered on £150 ($235) pre-pay plans, but it doesn't feel a cheap phone. More than that, though, Nokia has come up with distinctive designs, thanks to its "Dual Shot" construction process, which pairs two layers of translucent and/or opaque plastic, with either matte or gloss finish. There's a punchy, shiny green with a yellow inner, or a spunky two-tone magenta, for those wanting a stand-out device, while the white and the matte cyan are more discrete. Nokia will also offer a black shell for no-nonsense sorts.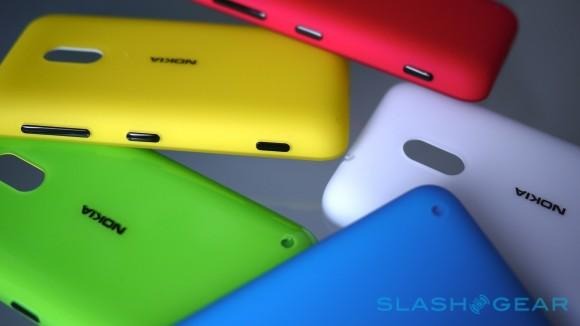 Stripping off and reattaching covers is a matter of pushing the camera lens on the back and levering out the core of the phone. Cleverly, the headset jack is built into the shell – it docks with a cut-out in the phone – increasing structural rigidity as well as making for easy replacement should the connector break. There's no need to restart the Lumia 620 when you switch covers, meaning you're up and running again in seconds, and Nokia expects the shells to be under £20 ($31) meaning they're not extortionate. Our only mild complaint is the overall thickness: accommodating removable husks and the double-layer construction of the cases themselves means the Lumia ends up reasonably chubby: short and squat with its 115.4 x 61.1 x 11 mm dimensions.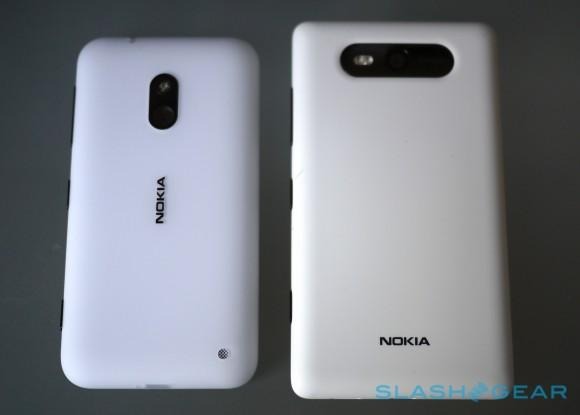 A fancy suit wouldn't be much to call home about if the rest of the Lumia 620 didn't hold up, but happily Nokia has learned from its spec mistakes with the Lumia 610. Inside there's a 1GHz Snapdragon S4 Plus processor paired with 512MB of RAM and 8GB of storage; owners also get a microSD card slot for expanding that by up to 64GBz. Connectivity includes quadband HSPA+ (850/900/1900/2100) and quadband GSM/EDGE, meaning that – though Nokia has no US launch plans it can tell us about right now – the phone will actually work on both AT&T and T-Mobile 3G networks.
Then there's WiFi a/b/g/n and Bluetooth 3.0, though Nokia also finds room in the budget for NFC, which can be used to instantly pair the Lumia 620 with a wireless speaker, for instance. There's also a front-facing camera, something the Lumia 610 lacked, albeit running at a conservative VGA resolution. A 5-megapixel camera with LED flash is on the back.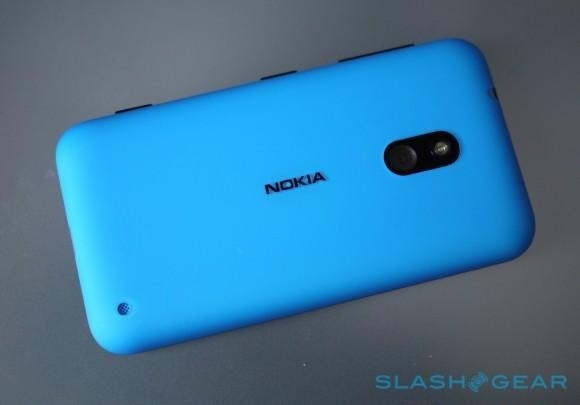 With a slowly growing movement of smartphone users rebelling against the ever-increasing size of handset displays, it comes as little surprise that the Lumia 620's 3.8-inch display got some interest. Helping keep the overall bulk of the phone down, it's 800 x 480 WVGA resolution doesn't get close to the 720p or above of more expensive handsets, but that's not to say it's a bad panel. In fact, Nokia wheels out its ClearBlack LCD technology again to good effect, with excellent outdoor-visibilty and decent color reproduction.
Software
You know what you get with Windows Phone 8 on a recent Nokia: a clean UI that lends itself well to the first-time audience likely lured in by the Lumia 620's affordable price; a shortage of some of the must-have apps (though the situation is, gradually, improving); and a bevy of Nokia's own software enhancements to sweeten the overall deal. So, you get the usual Metro interface with Live Tiles, solid Office 2013 and Xbox integration, and the convenience of hooks into SkyDrive, with the bonus of Nokia Music, the various camera add-ons, and augmented-reality.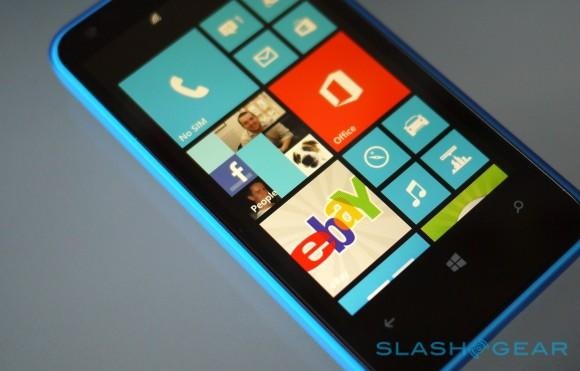 Nokia Music is a useful addition, particularly if you're not of a mind to create your own playlists (Spotify is now on Windows Phone, which ticks a big box many would-be users were hung up on), and you can't argue with the price (since Nokia bundles free access). Audio quality from the Lumia 620's headphone output was solid, while the speaker belies the compactness of the phone, making up for some loss of finesse at higher volumes with sheer strength of sound.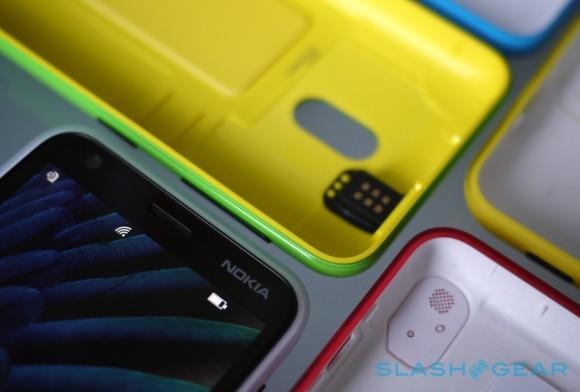 As for overall performance, bar a couple of glitches when the Lumia 620 froze momentarily, the 1GHz dualcore processor served Nokia well. You'd have to be looking particularly closely to see the difference in app-loading speed and other factors between the cheap Nokia and, say, its top-of-the-range Lumia 920 sibling. In SunSpider, the browser test of Javascript performance, the Lumia 620 managed a speed of 1,453.4ms (lower is better).
Camera
5-megapixels may not pit the Lumia 620 against any of the higher-end smartphones we've seen in the past few months, but it's good for a budget device, and the Nokia uses its pixels well. Given good light, preferably outdoors, and the stills are great for the price: sharp and with accurate colors. Close-ups are also crisp, and even in lower-light situations the Lumia 620 avoided the murk and noise that generally affects cheaper phones.
As for video, that maintains the accuracy of color and overall balance, though it's best to keep as steady a hand as you can since the optical image stabilization of the Lumia 920 isn't present here. Audio capture is also good.
Nokia throws some extra camera apps into its Windows Phone range, the most interesting of which are Cinemagraph and Smart Shoot. Cinemagraph is an easy way of creating a mash-up of photo and video, grabbing a brief clip and then allowing you to mask out all but specific areas you still want to have moving. They can then be shared to the usual social networks, though they're stored on Nokia's server and farmed out as links. However, save one to your computer and you'll find it's a .gif that can be used on Tumblr or other sites.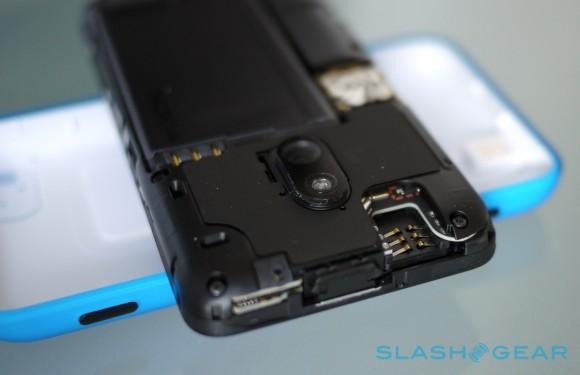 As for Smart Shoot, that uses the facial recognition technology Nokia acquired when it bought Scalado, and basically fires of a clutch of stills in rapid succession and then allows you to piece together the perfect group shot using faces snipped from different frames. It's the same system as we've seen on BlackBerry 10, and works reasonably well, though you do need to be facing the camera head-on – and with nothing obscuring your face – if Smart Shoot is to correctly identify you.
Phone and Battery
We have high expectations of Nokia devices when it comes to phone and battery life, a leftover of Symbian phones' particular strengths in those categories. Happily, the Lumia 620 holds up in that respect too, despite the different OS: we comfortably managed a day and half of use – with push email, a mixture of streaming and cached audio from Nokia Music, photography, web browsing, some GPS use, a few calls, and some messaging – before having to go near the microUSB charger. Phone calls, meanwhile, were crisp, as well as loud through the speakerphone, and we had no problem clinging to a signal.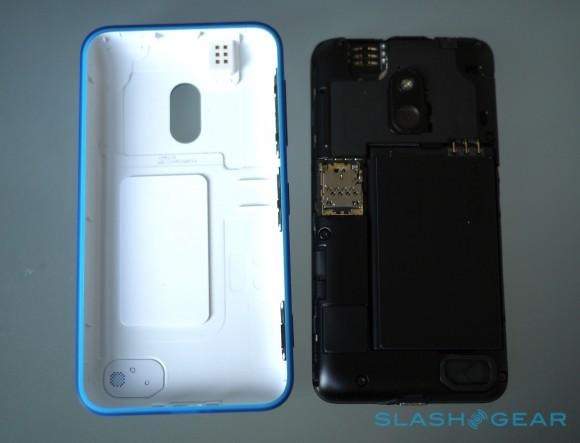 Wrap-Up
Reset your expectations of a smartphone. Stop thinking of it as an either/or decision Android or iOS; put yourself in the mindset of the everyman. We've praised Windows Phone before for its suitability to a new smartphone user, and the Lumia 620 fits that category well. The hardware is cheap but distinctive and easily customized; the software is fit for purpose – email, browsing, camera, and multimedia are served well, and while there are still missing apps, it's questionable whether the target audience will notice their absence – and the price can't be argued with.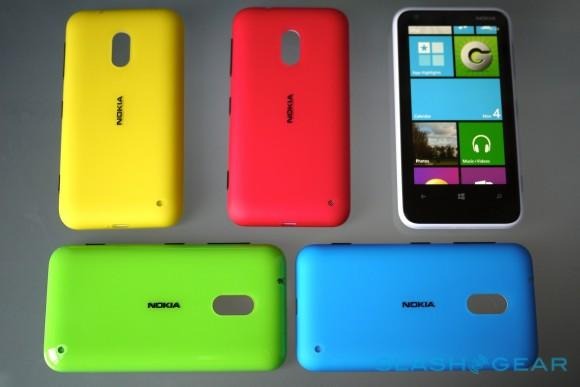 Still, we can't help but think that the Lumia 620 is wasted on newbies. More than a few of the tech professionals we've spoken to in recent weeks – people who have their pick of the top-tier smartphones, and who probably have most of the must-haves sitting on their desk – have professed a degree of affection for the new baby Nokia. Yes, the diminutive size and carefree covers help, but it's really more the singularity of purpose that draws you in.
The Lumia 620 does its job, for the right price, with minimal compromise. There are no obvious omissions, like the missing front camera of its predecessor, and services like Nokia Music and Cinemagram give it a degree of out-of-the-box completeness that's arguably missing from other devices. For the price we'd recommend it over a cheap Android handset, especially if you're a new smartphone user, but there's plenty more than low-cost appeal in the Lumia 620's favor.