Nokia Lumia 710 revealed for T-Mobile, Mango included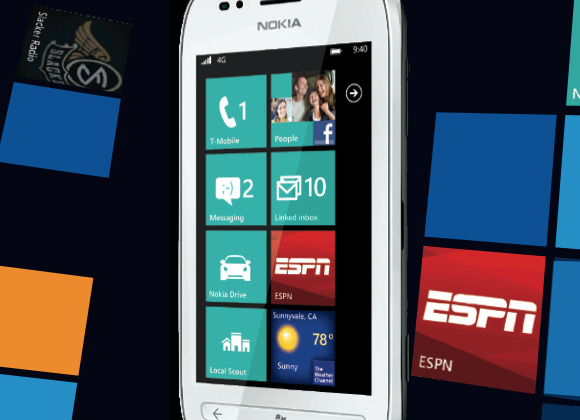 This week we're seeing Nokia's first drum hit in an incoming thunderstorm of devices for 2012, this the Windows Phone 7.5 Mango device Lumia 710 as carried by T-Mobile, the first US-based carrier for the greater Nokia/Microsoft collaboration. This device is meant to tend to the smartphone user who wishes to simplify their experience and to the feature phone user looking to upgrade to a smartphone without what Nokia would have you believe is unfashionable or confusing in Android and iOS. While we're not so sure this is going to be a Google mobile OS or iPhone killer, it does seem like a pretty neat package, and a nice looking piece of hardware to boot!
Inside this device you'll find a 1.4GHz single-core Qualcomm Snapdragon processor and 512 MB of RAM, 8GB of internal memory, and SkyDrive cloud storage app right out of the box. The display is a 3.7-inch touchscreen at 800 x 480 pixel resolution and ClearBlack technoloty to make sure your blacks are black as they can be. The back-facing camera is a 5-megapixel shooter with what we've been told is an enhanced lens for clarity and sharpness, and the whole thing will run all night and day on a 1300 mAh battery — in fact, Nokia is saying this device will sit in your pocket on standby for an unbelievable 16 days straight.
Hands-on with the Lumia 710 in its original International iteration
You'll have the ever so impressive Nokia Drive inside for GPS navigation, Microsoft Word, Bing apps galore, Xbox Live, Zune Music, and Windows Phone Marketplace for apps. ESPN has an app on here specifically for Nokia Windows Phones that works with Live Tiles to allow you to put your favorite team right there front and center, and the whole package is rounded out by a unique service: Nokia Concierge service. You'll be able to call your Nokia representative any time to answer any question you've got about your device outside of billing (as that's still T-Mobile's domain) and get your answers quick as a flash.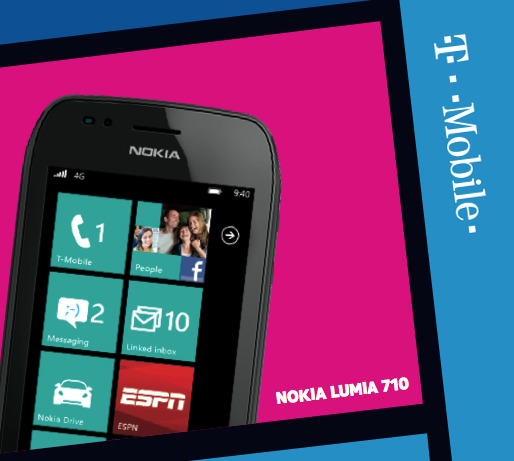 Outside of Apple, no other business offers such a call-in Q and A service right this moment – that's quite the value proposition. Can't wait to see the USA version of this device popping up soon!