Nokia Lumia 630 Review; Help Us, Cortana, You're Our Only Hope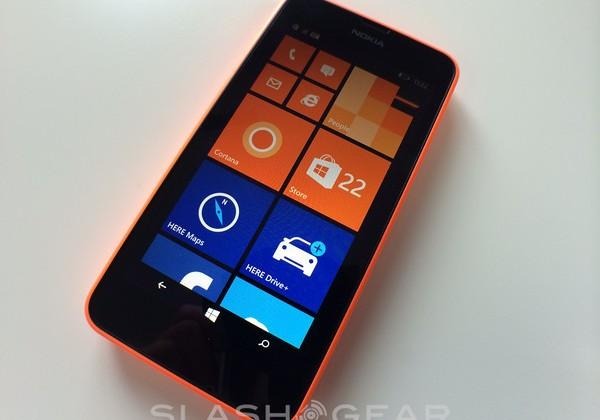 Windows Phone is primed for a serious update, but can it make headway into the mid-range market? With Android holding sway in the "lesser-than" category, Microsoft aims to move into their territory via the Nokia Lumia 630. A decidedly mid-tier phone, it's got some bite, but enough to stand up to those like the Moto G? We go hands-on to find out.
Hardware
The Lumia 630 is familiar Nokia fare, and reminds us of the recently reviewed Noxia XL. Plastic, boxy, but with a hint of heft. The orange cover (it comes in other colors, too) is removable, giving you access to the battery and SIM card. We can't say snapping the cover away often is a good idea, though — it isn't as easy as some others.
A 4.5-inch screen sounds great, but the 854 x 480 pixel display is too grainy by any standard. The IPS LCD has Microsoft's ClearBlack moniker, which is more a stamp of approval than hardcore tech. The badge is for those devices Microsoft wants us to believe has a design standard, as it has extra filters which aim to give truer color representation for pixelated devices such as the Lumia 630. With the 630, we're failing to see what the standard is; blacks appear blue, and in 2014, pixels shouldn't be noticeable.
Like the Nokia XL, the 630 has a Snapdragon 400 and 5MP camera. It's got a sad 512MB RAM, and up to 8 GB Memory, expandable to 128 GB. Bluetooth 4.0 is a handy feature, but a lone accelerometer sensor lacks punch.
Software
Windows Phone has come a long way since inception, but also begs for robust hardware. That's where the 630 will test Microsoft's mettle. Can a mid-range device offer enough in the way of Windows Phone to keep us interested? That depends on what you're doing with it, of course.
For those who want to play intensive games, this isn't your device. The hardware is just plain incapable of keeping up with rigorous activity, and Windows Phone usually doesn't get cool new games. Windows Phone 8.1 is a decent iteration of Windows' mobile efforts, but falls well short here. The device will get the job done, but not offer you any surprises along the way.
If you want to keep up with pals on Facebook and check your Twitter feed, this is just fine. We also like this one for Cortana, where Microsoft has made big strides. The latest incarnation of a smartphone assistant is robust and engaging. We'd strongly suggest this service for someone who wants the Lumia 630 as little more than a digital assistant. Where the device may fall short otherwise, Cortana picks it right up and has us coming back to it.
Performance
The 5MP camera on the 630 is fine for grabbing a shot of lunch to share on Instagram, but that's about it. You won't be getting gorgeous sunsets or shimmering images of ponds. Editing options are sparse, too. If you want a picture of the kids being kids, though, there's no issue here.
In normal use-case scenarios, the 630 was a touch laggy. With diminished RAM, that was just bound to happen. If we're comparing apples to apples, though, many devices in this category will perform similarly. If we were suggesting mid-tier devices to someone who wanted more than they were spending for, however, it would likely be the Moto G.
Battery life here was adequate, but an 1830mAh power pack pushing the hardware it does offered up no surprises. The screen is rough, and doesn't beg much from the battery, which is usually where you'll get knocked in battery life. We got a full day plus with normal use, stuff like checking messages and keeping up with light tasks. A small battery also means quicker charging, so you're not tethered to a wall for long (if at all) in your day. If you need to go longer, a battery saver mode will help you out.
Conclusion
The price will move this device, no doubt. Microsoft has effectively re-branded a device from two years ago (the Snapdragon 400 was slightly behind when it debuted on the Nexus 4) and sold it anew. The hardware breaks no new ground, and our overall takeaway was one of mere acceptance; we didn't love it, but it didn't necessarily leave us shaking our heads at it, either.
Those in the market for a fairly solid mid-range device who have an aversion to Android, this one may suit you. As a Windows Phone, it left us wanting, but that's just the mid-range game sometimes. Windows Phone begs for better hardware all around, and the Nokia 630 doesn't deliver. For the market it's aims at, though, it will likely be a good foot in the door for Microsoft.