Nokia XL review: not the 'droid you're looking for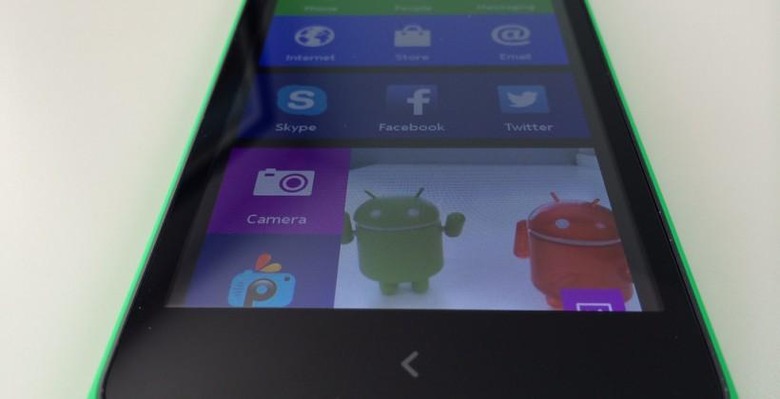 The Nokia XL is an interesting workaround to Android, and that's just how we're phrasing this device. At nearly every turn, the Nokia XL attempts to break Google's hold on Android. Meant for the emerging market, we went hands-on to find out if Nokia was onto something with the XL.
Hardware
There are two things that strike you immediately about the XL: it's massive (141.4 x 77.7 x 10.9 mm), and green (there are other, equally bright colors). Bigger than any other Android handset we've toyed with, the XL is both wider and thicker than anything we have on-hand right now. It's also green; really, really green. That Android green is great in doses, but really strikes an unnecessary chord here.
The device is sturdy, though, with the green cover snapping off to reveal the battery and SIM card trays (ours is dual SIM). We'd say the battery is "accessible" rather than "removable", as the cover isn't as friendly as a Samsung device is.
Turn it on, and you're greeted with "Nokia" and a jaunty little jingle on the WVGA 800 x 480 screen. A Snapdragon 400 keeps it all together, while a 5MP rear camera does the photo work. A sorry 78 MB RAM serve as juxtaposition to the 4 GB Memory, which is expandable via Micro SD card up to 32GB.
Software
Nokia's XL may be Android, but it's not Google approved Android. Nokia's marketplace is actually more akin to Amazon's App Store when it first lit up. Full of offbeat apps, the Nokia app portal is severely limited, leaving us wanting a lot more than we'd hoped for. Chances are, if you were to use a "proper" Android phone ahead of this one, you'd go wanting for the apps you were used to, emerging market or not.
The tiled interface is far too Windows for our Android sensibilities, though we do like the quick-launch feature from the lock screen. A single "back" button is also a touch too limited for the interface, even with the slide-out recents menu. All apps are cobbled into a drag-down home screen, and you're not able to position them into folders to save space. Dragging down from the home screen for search is familiar, though, and a nice touch from Nokia.
Get too far into any app, though, and you'll wish you had more than a single back button. Pressing that thing feverishly to properly get out of an app can be maddening, especially since the recents gesture doesn't always work — even in Nokia apps. You can long press to get home, but we found instances it just didn't perform as advertised.
Performance
We'd love to have Benchmarked this phone for the hardcore fans out there, but the limited Nokia market didn't give us any results for a benchmarking app. We were left waiting for over 20 minutes when we searched for "benchmark" in the Nokia Store; the limited RAM really showing its colors in day-to-day testing.
At any given point, expect lag with the XL. A simple search in Nokia's app store would leave us hanging for minutes; not seconds, minutes. Scrolling and typing were similarly laggy and disappointing, often missing letters and phrases en masse. Nokia's word assumption is good, but who wants to use that all the time? Not us.
The camera is adequate for pictures, but if you're into any kind of photography, look elsewhere. We found the 5MP fine for snapping off a quick pic of a still object, but it slowly focussed and the shutter was a touch slow. Like most things with this phone, it's good enough, but not great.
Conclusion
I wanted to love this phone, I really did. As a long-time Android user, a Nokia phone was something I'd longed for. Now that it's here, I wish Nokia had started the process sooner.
I can respect that Nokia (or Microsoft, really) doesn't want to play the Google-Android game, but they needed to tip their hand much sooner to get more apps involved. The selling point for Developers was that with almost no effort, they could port their apps onto the Nokia Store. That clearly hasn't happened, even though doing so has a huge upside for Developers.
The $150 price tag, though — that's going to rope a lot of people in the EMEA market. If their needs are basic, they'll find favor here. If they want to do more than message friends via Facebook or search Twitter, though, they'll have a rough go.
The Nokia XL is a middle-of-the-road handset, and doesn't promise to be more. For that, we're happy. It didn't overpromise, and has delivered on being a decent device for the market it's aimed at. A big screen is nice, and the entry-level price is fantastic.
The issue is Nokia's app market more than the device itself, where the emerging market is just being cheated. If it really is as simple as Nokia claims to get existing apps onto their store, they should really make a push to get more offerings there. Until then, we'll consider this a decent first step, but proof that Nokia needs to get serious before we take them seriously.