Nokia Booklet 3G unboxed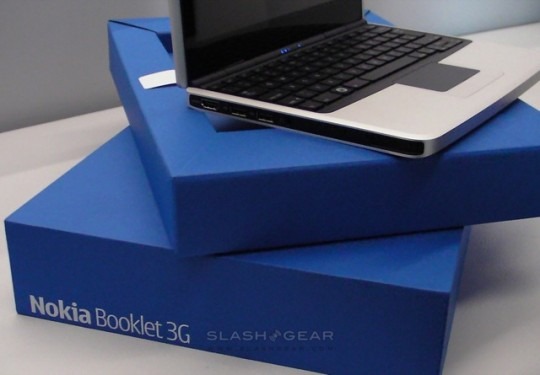 While we had a chance to play with the Nokia Booklet 3G last night, what we didn't see was the final retail packaging for the upcoming highly-connected netbook.  That turned up today for an impromptu photo-shoot, so check out the full gallery – plus details of what will be in the box – after the cut.
As well as the 720p-capable netbook itself, there'll also be a wired stereo headset for using the Booklet 3G as a cellphone.  There's also an adapter which can be used to charge your phone from the Booklet 3G's own AC adapter, the battery, a USB cable and a cleaning cloth.
From talking to the product team behind the Booklet 3G, they've also revealed that they'll be offering a metal top cover at some point in the near future (instead of the non-interchangeable plastic covers) together with considering putting a bigger, roughly 11-inch panel in there.  The current screen is a custom one for Nokia, and ironically it's possible that shifting to a larger, but mainstream LCD might actually save some money.  Check out the full packaging gallery below, and head over here for our hands-on with the Nokia Booklet 3G itself.