Nokia 5800 XpressMusic official in US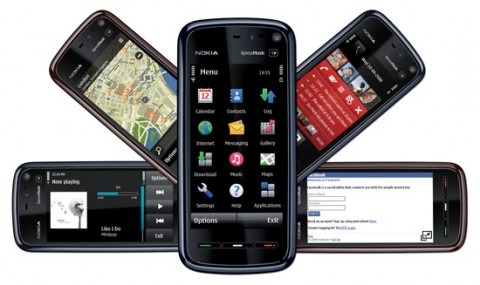 Nokia have officially announced the launch of the 5800 XpressMusic in the US, a day later than predicted, where the touchscreen media-friendly handset will retail for approximately $399 before taxes and subsidies.  The 5800 uses a 3.2-inch wide-aspect resistive touchscreen, and features the latest touch-friendly version of the S60 OS.  There's also a 3.2-megapixel camera with Carl Zeiss optics and integrated stereo speakers.
We reviewed the Nokia 5800 XpressMusic back in December, and found it to be a capable PMP replacement, if not quite the iPhone 3G rival many expected it to be.  It includes Nokia's new "Contacts Bar" and "Media Bar" active shortcuts, and for a limited time US buyers will get a $50 Amazon Video on Demand voucher.
If you want to go out and physically manhandle a 5800 before dropping all that cash, you'll need to either be in New York or Chicago where Nokia have their Flagship stores, or near an "independent retailer".  Otherwise the Nokia 5800 XpressMusic is available online, though at time of writing it's still showing up as a pre-order item.
Press Release:
Nokia 5800 XpressMusic hits shelves in the United States

Ever-popular device now available optimized for North American market

White Plains, NY, USA – Nokia announced today that the highly anticipated Nokia 5800 XpressMusic is now available in the United States. The latest in Nokia's XpressMusic range, the Nokia 5800 XpressMusic delivers an affordable music device with a touch screen interface to the mass market.

The Nokia 5800 XpressMusic offers all the music essentials including a graphic equalizer, 8GB memory for up to 6000 tracks and support for all main digital music formats, and a 3.5mm jack. Built-in surround sound stereo speakers offer a powerful sound.

"When it comes to music phones, people all over the world want a device that is a great music experience and still works really well as a mobile phone, without sacrificing features," said Ian Laing, Vice President, North America Sales, Nokia. "The Nokia 5800 XpressMusic delivers on this and has clearly proven to be a device that consumers are clamoring for – selling more than one million worldwide since its introduction a few months ago."

Making the most of touch screen technology, the Nokia 5800 XpressMusic delivers easy and fast access to all music, video and photos through a one-touch 'Media Bar' drop down menu. The Media Bar also offers a direct link to the Web and to online sharing. Because the Nokia 5800 XpressMusic supports Flash content, individuals can surf even more of the web.

The innovative 'Contacts Bar' lets people highlight four favorite contacts on their home-screen and, through a single touch, track a digital history of recent text messages, emails, phone logs, photos and blog updates.

Among the highest screen resolution available on a mobile phone, the 3.2" widescreen display brings photos, video clips and web content to life in vibrant color and true clarity. With a 16 by 9 aspect ratio and 30 frames-per-second playback and recording, the device is ideal for VGA quality video recording and playback. The Nokia 5800 XpressMusic also features a 3.2 megapixel camera with Carl Zeiss lens. With a single touch, images or videos can be shared via a favorite online community, such as Ovi Share, Flickr, or Facebook.

The Nokia 5800 XpressMusic offers a variety of input methods including a virtual alphanumeric keypad, a virtual computer-style QWERTY keyboard, a pen stylus — and for true music enthusiasts, you can even use a guitar pick.

The Nokia 5800 XpressMusic will be available for approximately 399 USD before taxes and subsidies in the U.S. through Nokia Flagship stores in New York and Chicago, nokiausa.com and independent retailers and e-tailers. For a limited time, the Nokia 5800 XpressMusic will also come with a 50 USD voucher for Amazon Video on Demand which allows you to download thousands of movies or TV titles as well as one month of free turn-by-turn voice guided navigation through Ovi Maps.

* Capacity based on 3 minutes, 45 seconds per song with 48 Kbps eAAC+ (M4A) encoding on the Nokia Music Manager.