Nod smart ring hands-on: Is gesture tech finally ready?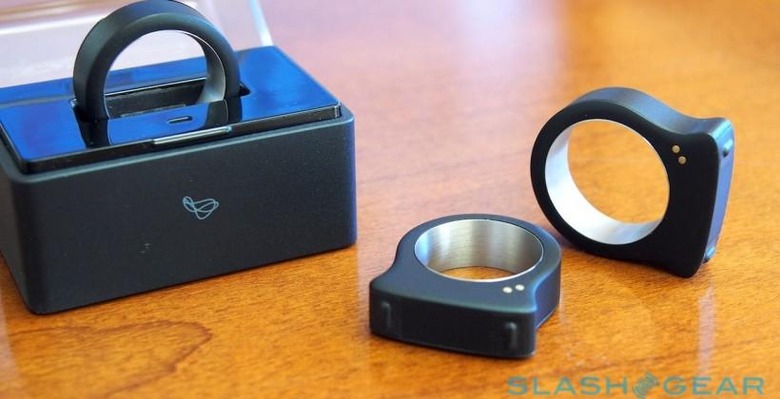 Forget speaking to Siri, or winking at Google Glass; startup Nod Labs wants you to control your digital world with its gesture-responsive Nod smart ring, whether that be your TV, your wearable, your notebook, or your console. Effectively wrapping high-resolution movement sensors around your forefinger, Nod can track multi-finger gestures for everything from virtual keyboards through to gaming. We caught up with the Nod Labs team – which includes former designers and engineers from Apple, Google, Jawbone, and Samsung, among others – to find out more.
The argument behind the Nod smart ring is that we've become too used to adapting to the machine, rather than the other way around. The keyboard and mouse have effectively stayed the same, and while we've seen an increasing number of touchscreen devices, they nonetheless have limits. Speech is a "shared medium" Nod Labs points out, and anybody who has tried to enter a search term on their smart TV using an onscreen keyboard and arrow buttons will know how frustrating it is.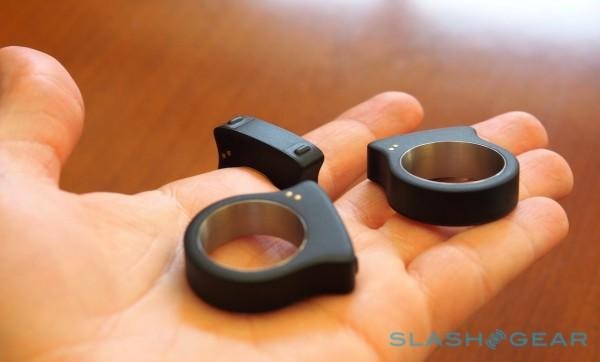 Nod, then, bills itself as the one, unified input device. A somewhat chunky – though lightweight – ring, it packs eighty components – including two CPUs – into a waterproof casing good for 5 ATM, it's covered with touch sensors and buttons, and hooks up via Bluetooth LE to your phone or other device.
Slip it on and move your hand around, and you can control an on-screen pointer, the menus of your smart TV – Nod supports LG smart TVs from 2012 on, along with Roku – along with Google Glass, smartphones and tablets. That could be paging through menus, or swiping across a virtual keyboard.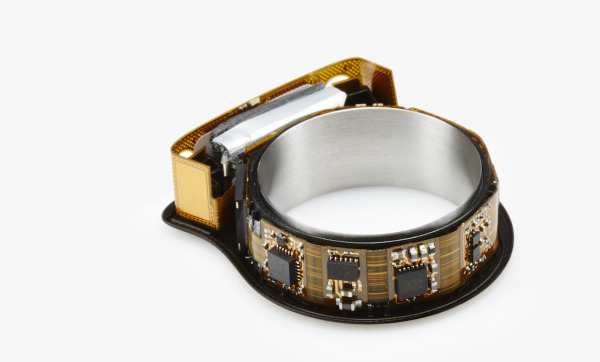 Meanwhile, a second order of gestures can be used for more intuitive control of appliances and other devices. Rotate a virtual dial, for instance, and Nod could turn down your Nest thermostat; raise your hand palm-up, and your Philips hue lights could brighten.
That's the theory, anyway. We were unable to try Nod out ourselves, with the company pointing out that it's very much sizing dependent to get the right accuracy and response from the ring. A total of twelve different sizes will be offered, split into four main categories – S, M, L, XL – and with each coming with a set of three different inserts for more granular adjustment. Nod Labs promises to replace the smart ring of anybody who inadvertently orders the wrong size.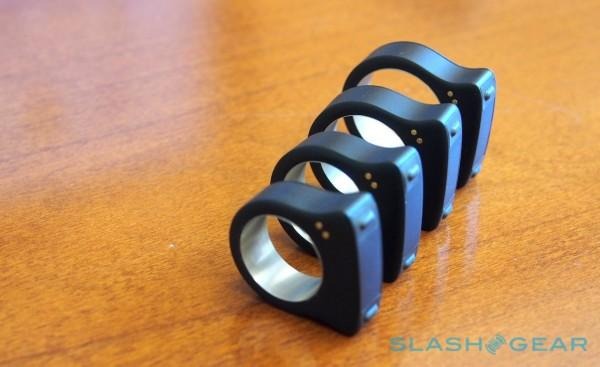 What we could see is a live demo, with one of Nod Labs' team walking us through the core features. What's noticeable from the outset is how little physical movement is actually required, a stark contrast to the arm waving used with Leap Motion and Microsoft's Kinect sensor bar.
In fact, you could see how it might be too sensitive for some purposes, and in fact Nod Labs admits that turning down the reactivity does make it far easier for beginners to familiarize with. The sensors themselves are capable of 32,000 DPI resolution control; probably too much for navigating your TV's menus, but ideal for first-person shooters (in fact, you could pair up two Nod rings and have both hands in the game).
Control isn't the only thing Nod can do. Pair it with your smartphone and it'll automatically unlock the handset when it's near you, locking it when you move away, much as Motorola's Skip for the Moto X does. Nod Labs has cooked up its own web-based swipe keyboard, too, along with things like a remote camera control for GoPro.
For the moment, the smartphone acts as a bridge for many of the applications. There's auto-screen-detect, too, with Nod using presence to enable control of whatever display you're nearby, beaming your phone's display there.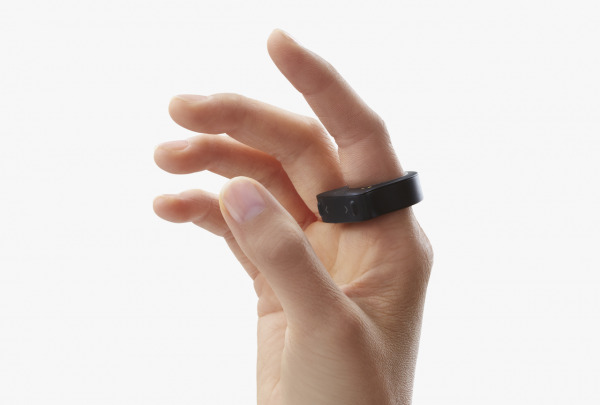 However, there's also Bluetooth scatternet support, which means that Nod can effectively maintain multiple connections with different devices simultaneously, with each device thinking that it has a regular 1:1 pairing. Right now, it requires manual switching between intended device via gesture; in the pipeline, there's intelligent differentiation for gestures across multiple devices
So, you wouldn't have to tell Nod that you wanted to control your Nest, it would simply recognize the rotate gesture and know what to connect to. Nod Labs also offers the OpenSpatial framework, with an API that unlocks the smart ring's directionality, distance, identity, and gestures data to third-party apps, hardware, and services. In fact, developers will be able to tap into OpenSpatial using just the regular sensors found in modern smartphones, though without some of Nod's form-factor advantages.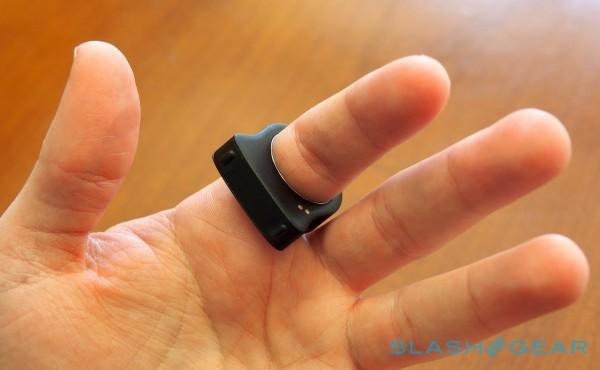 On the finger, it's a little chunky but not especially noticeable after a while, and the stainless steel inner-ring should avoid any of the skin irritation issues we've seen from the silicone used in Fitbit and other fitness bands. On that subject, while Nod does contain all of the sensors of a Fitbit or UP24, Nod Labs tells us it has no plans to make a straight health wearable rival. However, if a third-party wanted to come along and use the OpenSpatial framework to do that, it would be eminently possible.
There are still plenty of lingering questions. How well not only one, but two- and three-finger gestures work, and just how easy it is to type with Nod rather than a traditional keyboard or touchscreen, for instance. The company suggests a day of "active use" – or a solid hour of typing – is possible from a single charge, after which you'll have to slot Nod back into the charger case, which plugs into a regular microUSB adapter.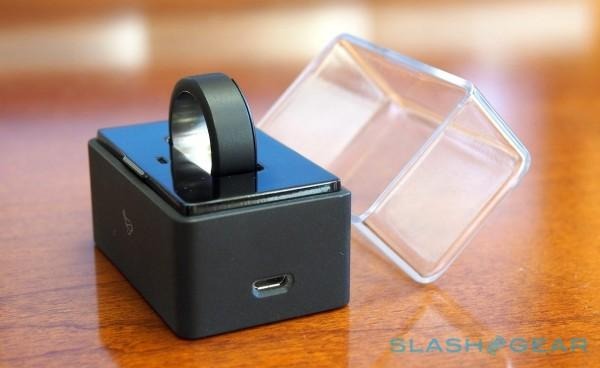 The past couple of decades have been full of "the next big thing" in text-entry and control, most of which have swiftly fallen from memory. Nod's flexibility, and its openness out of the gate, are in its favor; it also arrives as wearables – and questions about how they're easiest controlled – begin to proliferate. We'll reserve judgement until later in the year, when we have a chance to try the smart ring out for ourselves.
Nod is up for preorder from today, priced at $149. It's expected to begin shipping this fall.
MORE Nod Labs