Moto X Skip Dongle Hands-On With Moto Maker Custom Phone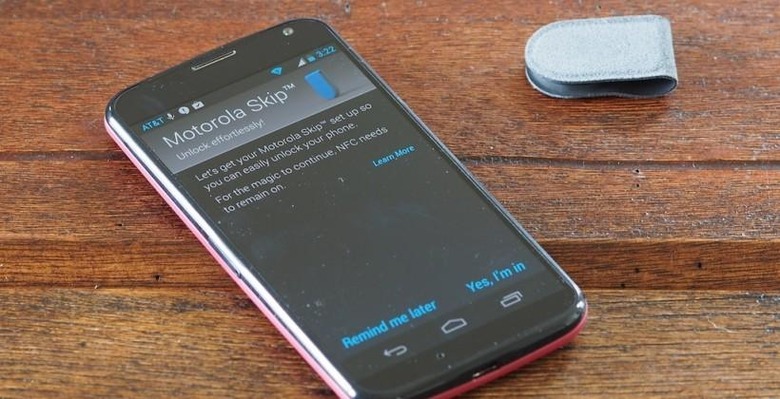 The Moto X is only showing up in AT&T stores today, but since we got our order in early through our Moto Maker walkthrough last week, we've had an early opportunity to try out the new Skip security dongle system. Effectively a wearable NFC tag, the Skip clips to your jacket, jeans, or purse, and – when tapped against the Moto X – bypasses its PIN code lock so that users can access the "touchless control" Google Now functionality straight away. There are a few other little surprises in the box, though, too, so read on for more.
The Skip itself is fabric-covered, grey on one side and black on the other, though Motorola has said it will offer different color options later down the line. Sewn in are two small magnets, which are capable of tightly gripping through, say, the fabric of your cuff and keeping the NFC dongle in place.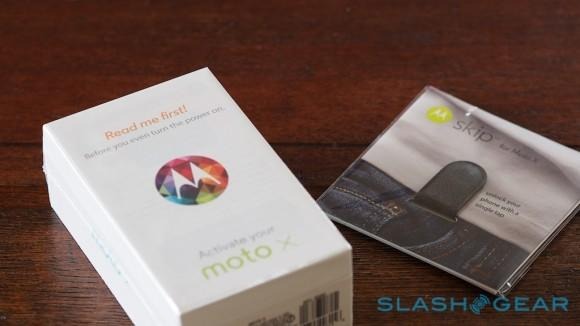 In addition to Skip, though, you also get three of what Motorola calls Skip Dots: effectively NFC stickers. These, the company suggests, could be fixed to your desk, your nightstand, or your car dashboard, and so allow easy unlocking of the Moto X whenever it's nearby.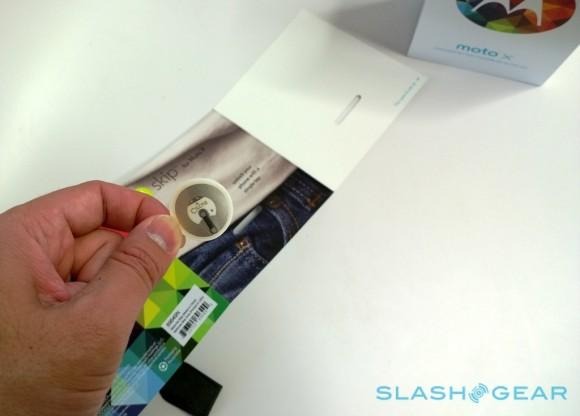 Setting everything up is very straightforward, particularly if you opt for the pre-configured Google account login option from Moto Maker. In that case, the Moto X arrives already set up with your Gmail and other Google services; then, it's a case of holding the phone against either the Skip tag or one of the Skip Dots, and running through the simple setup app that pops up.
Motorola Skip dongle for Moto X walkthrough:
As for the customized Moto X, we opted for a black and red finish with red highlights on the buttons and camera lens surround, along with a custom boot message. It's certainly more striking than the all-white of our review handset, and the red back cover feels slightly softer and more rubbery to the touch.
AT&T will include the Skip and three Skip Dots with every Moto Maker order, for a limited period at least, though Motorola will also offer it separately for $19.99.