Nissan is showing off its new full-LCD rearview mirror, which beams a live camera feed from the back of the car to a switchable display that can be flicked between regular glass or enhanced video. Designed to give better rear visibility as well as still provide a clear picture even if there's rain on the back window, low-light conditions, or even just a full rear-seat.
The problem with existing rearview mirror technology, Nissan argues, is that the line of vision through regular mirrors is often blocked by the car's styling, rear-seat passengers, or oversized headrests. Chunkier C-pillars for improved crash protection, and high stacks of luggage also get in the way.
Nissan's fix is to put a 1.3-megapixel narrow-angle camera up near the rear center brake light at the top of the car, and route its feed to a specially-designed 4:1 aspect LCD monitor that looks at first glance just like a regular mirror. Where you'd normally find the lever to flick between daytime and nighttime modes, on the smart version the same control switches between regular mirrored use and turning on the LCD.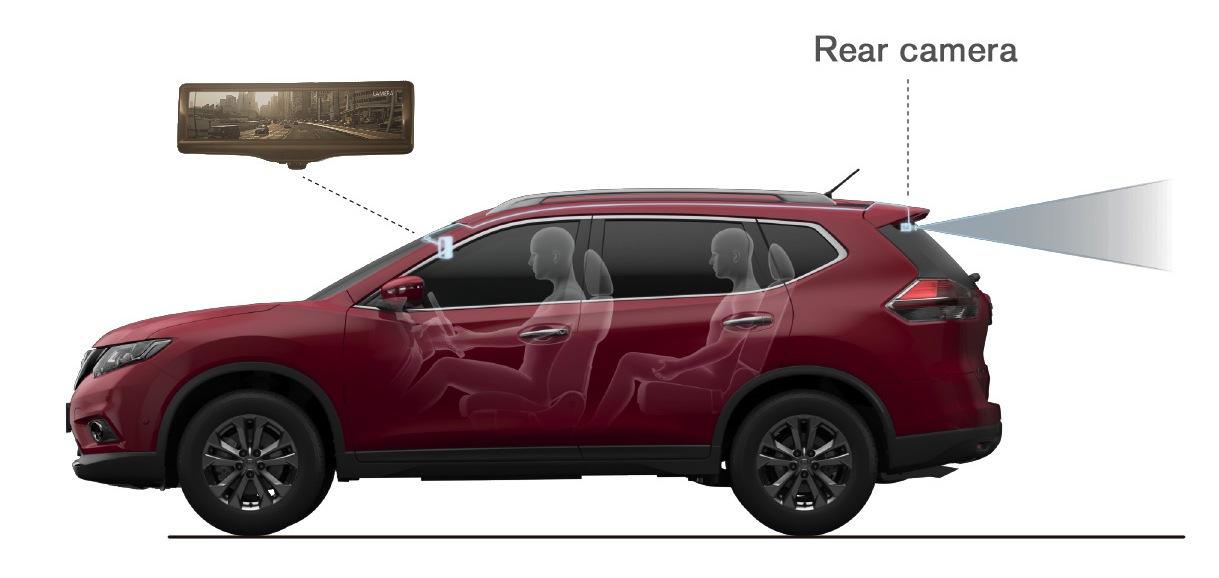 In-between camera and display there's some clever picture processing going on, which can minimize things light headlamp glare from those in cars behind, from sunrise or sunset, and from bright road lighting. It can also flick between different modes depending on the situation: for instance, when parking at low speeds it uses Nissan's all-around cameras to show a virtual "birds-eye view" – previously shown on certain Nissan cars on the center stack display.
When leaving a tight parking space or junction, however, it can show a 180-degree view from the front and rear simultaneously, making it easier to pick out potential hazards. Nissan's safety systems can also be flagged up on the screen, like lane-departure warnings and emergency brakes.
It's not Nissan's first use of unusual displays for cars. The company revealed its 3E wearable last year, an angular head-mounted display that works as a HUD for car telemetry.
Nissan plans to show the smart mirror tech first at the Geneva Motor Show early in March, with it being offered as a dealer option in Japan this spring, and beginning a global roll-out from 2015. It'll also be used on the ZEOD RC race car set to take on the Le Mans 24 Hours, and in Nissan NISMO cars.