Nissan IMx autonomous EV concept is a "virtual" power station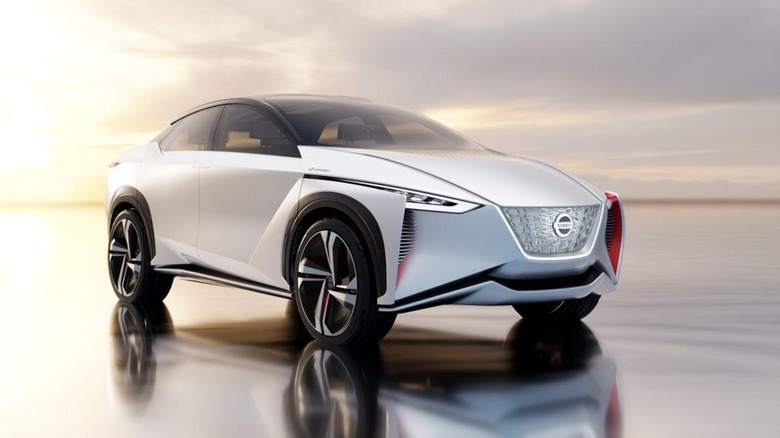 Nissan has brought an autonomous vision of the future to the Tokyo Motor Show 2017, with the Nissan IMx concept offering a distinctly Japanese spin on driverless vehicles. An all-electric crossover, the IMx features what Nissan describes as "a future version of ProPILOT", its driver-assistance system currently offered – albeit without full autonomous capabilities – in its existing cars. When activated, Nissan envisages, the crossover would draw in its steering wheel and take control.
Clearly, the version of Nissan ProPILOT available today can't do what the IMx concept car promises. Today, it's an assistance system, with lane-keeping, adaptive cruise control, and other abilities to minimize involvement on highways. Still, Nissan is clear that the person behind the wheel is still responsible, even when ProPILOT is active.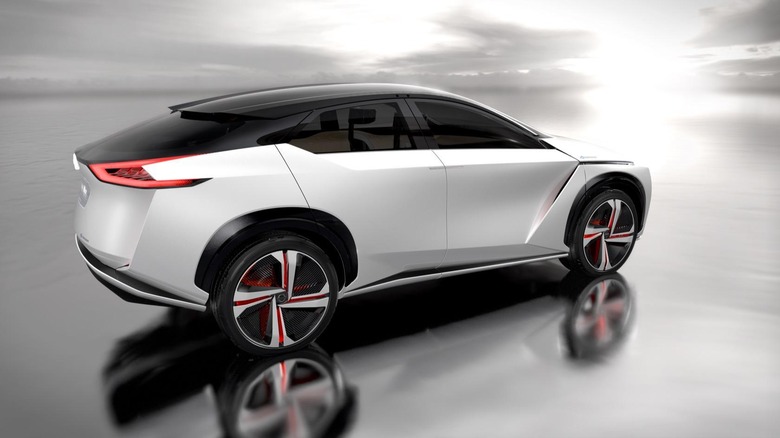 In the IMx concept, however, once the steering wheel is stowed in its dashboard nook, the driver is as free as their passengers. All of the seats automatically recline, for a more relaxed journey. Nissan envisages eye and hand movements being the primary method of interaction with the car's systems, cutting down on physical controls and switches.
From the outside, the IMx borrows some of Nissan's most recent styling cues. The V-motion grille has the same design language as that on the new Nissan Leaf, for instance, but it's paired with distinctive front fenders that have a layered configuration that's a little like traditional Japanese armor. Nissan says the combination of pearl-white paint for the body, and vermilion accent highlights, is meant to draw parallels with uramasari, "the beauty and extravagance found on the inside of traditional Japanese kimonos."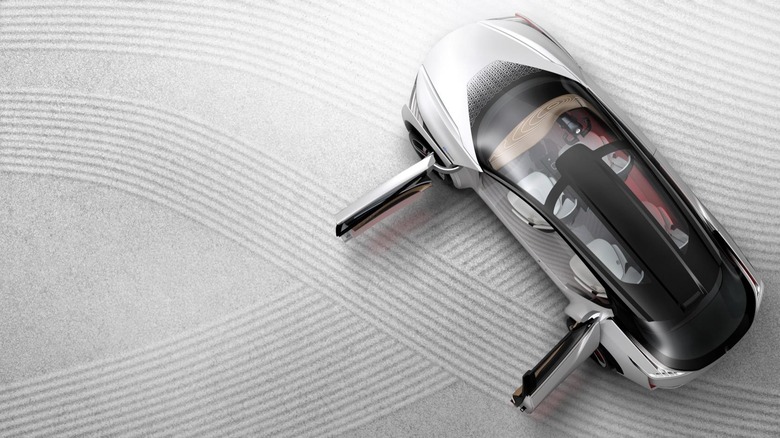 As we've seen with other autonomous vehicle concepts, there's a push to make the cabin feel more "lounge-like" since occupants are expected to focus less on the road. A huge door opening on either side, courtesy of rear doors that are hinged at the back and no B-pillar, allow for plenty of space to get in. The seating is more like a fashionable dentist's chair than what you'd find in a typical car.
Nissan lifts it out from the risk of cliche with its detailing. The wood grain-patterned interior trim is reminiscent of a traditional Japanese paper screen, ahead of the car's panoramic OLED instrumentation which shows the external environment. The laser-etched katanagare patterns on the seats resonates authentically with the head-rests, which are patterned like kumiki interlocking wood puzzles and created from 3D printed silicon material.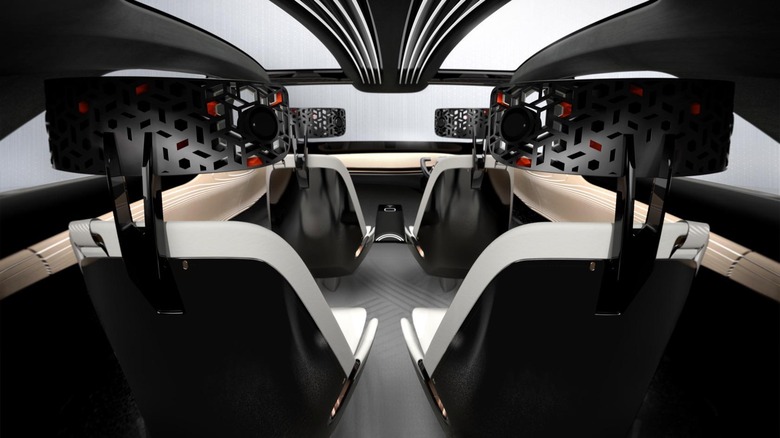 Really, though, the most interesting aspect of the concept car isn't its artificial intelligence or its cabin, but what's going on under the sheet metal. The IMx is based on Nissan's latest EV platform, which buries all of the tech under a completely flat floor. That allows for more flexible use of interior space, along with lowering the center of gravity for more stability and sharper handling, Nissan claims, versus a traditional crossover.
All-wheel drive comes from a pair of electric motors at the front and rear, which altogether produce 320 kW of power. Torque is, as you'd expect, high: Nissan says the IMx musters 700 NM, or around 516 lb-ft. That's the sort of figure you'd associate with a sports car, not a crossover SUV. It's powered by a high-density battery that Nissan claims can do more than 373 miles on a charge.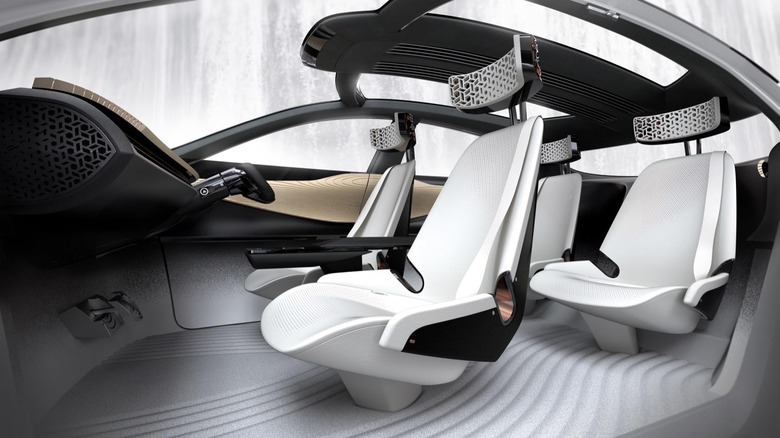 That charge, the automaker suggests, could be used for more than just driving. Since the IMx is able to drive itself, when it's not being used for transporting people it could, so the theory goes, take itself off and connect to the city infrastructure. That way, power in the concept car's batteries would help provide juice when demand was high, acting as a "virtual" power plant as Nissan describes it.
How practical is any of this? We're still some time out from autonomous cars being let loose completely on the roads, and Nissan's esoteric interior is unlikely to make it to production any time soon. Still, the automaker has been pitching Leaf EV batteries as ad-hoc power supplies for some time now, and many would-be electric car drivers are eagerly awaiting the upcoming new model.