Leaf EV could power your employer Nissan research suggests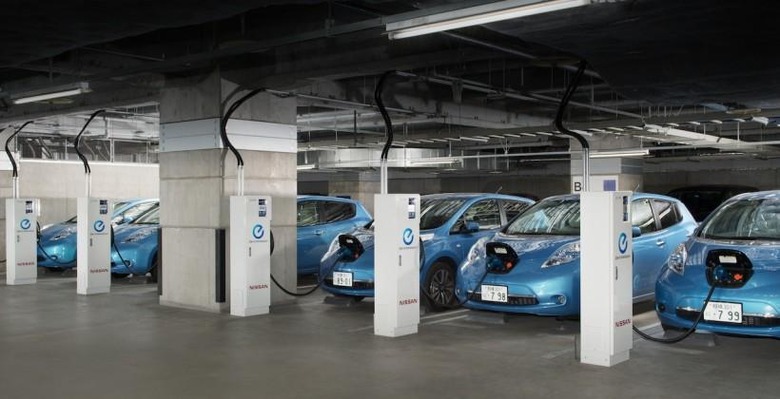 Plugging in an EV to recharge while you're at work is commonplace for electric car drivers, but Nissan wants to take things the opposite way with its Leaf, with a "Vehicle-To-Building" system that can turn a small fleet of cars into a power source for business infrastructure. The feature, currently in early field testing, sees up to six of Nissan's Leaf – which it's now calling the best-selling electric vehicle in history – connected to a building's power distribution board, and able to feed energy back in when peak supply rates make traditional sources inefficient.
In fact, Nissan has been trialling Vehicle-To-Building systems at its Advanced Technology Center in Atsugi City, Japan, since July 2013. While only six Leaf can be hooked up at any one time, Nissan has still seen a saving of 25.6KW over the summer periods, through a combination of more precise recharging and power sharing.
That's around 2.5-percent less use during peak hours, which Nissan claims works out to a saving of almost 500,000 yen ($4,883) in a year.
The new option builds on Nissan's Leaf To Home system launched in 2012, which aimed to improve the intelligence between the car and a driver's home charging system. Normally, the Leaf could be left to manage when it charged based on the lowest electricity rates, but Nissan's system also allowed the car's battery to work as a temporary power supply should the mains electricity go out.
In effect, the Leaf is being used as a huge, portable backup battery, in case of interrupted supplies. Nissan envisages drivers recharging their cars during the night, or from home solar panels, both cheaper sources, and then supplying that stored energy to homes or businesses during the day, when traditional power providers would charge more.
According to Nissan, even using the Leaf's charge in such a way doesn't impact the overall driving experience for owners, with the reassurance that the car will still be fully charged when they're due to leave work.
Vehicle-To-Building isn't the only Leaf-based research Nissan has underway. The car – and Nissan's Safety Shield system of outward-facing sensors and cameras – is the basis of the Japanese firm's autonomous vehicle project, which took to the public roads for the first time earlier this week.