2018 Nissan Leaf revealed: 150 miles range, and we've driven it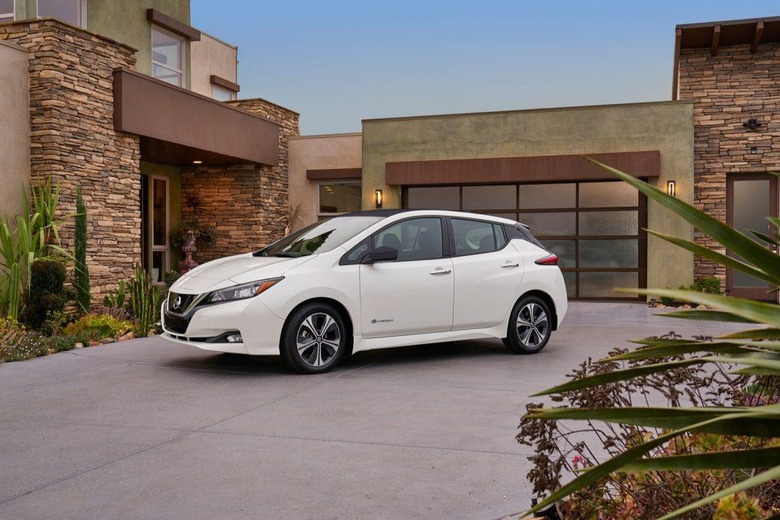 Meet the all-new 2018 Nissan Leaf, the much-anticipated updated version of one of the most affordable electric cars on the market. Promising more range, more power, and more technology, the new 2018 Leaf also adds some enthusiasm to the design of Nissan's zero-emissions hatchback. And, having had the rare opportunity to cruise around Nissan's research facility in Japan behind the wheel of a prototype, here's why I think this is a tipping point for the car.
I asked Alfonso E. Albaisa, Senior Vice President of Global Design, Nissan Motor Co. Ltd. what the inspiration for the new Leaf was. Albaisa told me that "it all starts from a single line. It actually started with a DAT, not a dot, but a 'DAT', it means to dash of like a rabbit, which I love very much." With that single line, the new Leaf is born – now all grown up, with a new aerodynamic exterior design, a roomy interior, and plenty of infotainment and driver-assistance technology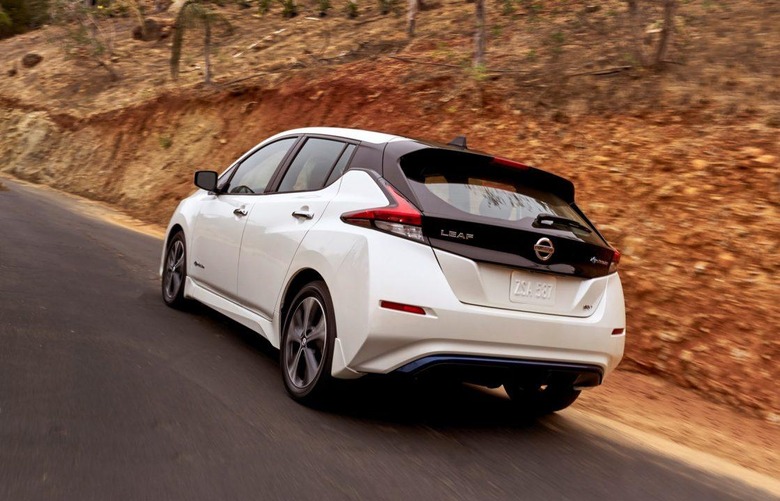 In a nutshell, there will eventually be two models of the new Leaf. The first, which is being unveiled today in Las Vegas, will have a 40 kWh li-ion battery for a driving range of 150 miles, and go on sale in early 2018. It'll charge from low to 80-percent in 40 minutes using Quick Charging; a 6 kW charger will fill the car up in eight hours, while a 3 kW charger will take twice as long.
Waiting in the wings, though, is a second model, called e-Plus. That will offer a longer driving range, likely to be more in excess of 200 miles. Final specifications for that 2019 Leaf e-Plus will have to wait until the car goes on sale later on.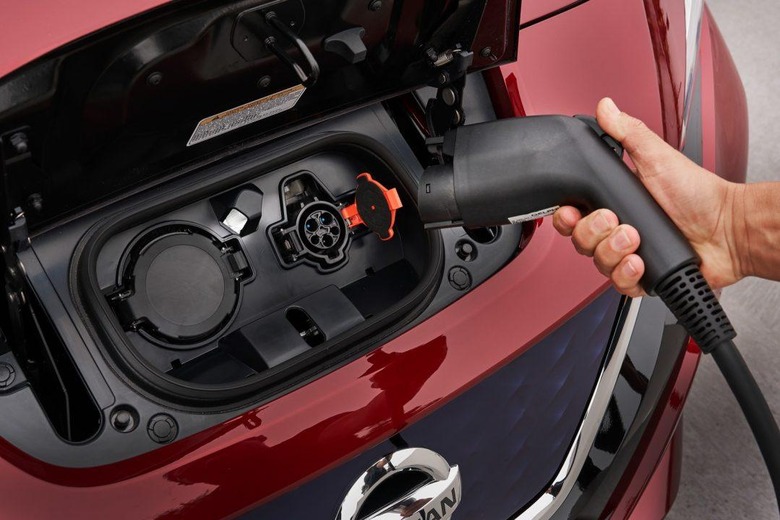 The 2018 Leaf's new e-powertrain has 147 combined horsepower and 236 lb-ft. of torque. I know that while 147 HP doesn't seem a whole lot, in my short time behind the wheel of the Leaf, across a variety of different scenarios include at highway speeds, I walked away with the sense that "wow, this car is zippy!" Partly that's down to the old EV party-trick of instantaneous torque, but making a significant impact is Nissan's new accelerator.
Dubbed e-Pedal, it's completely new to the 2018 Leaf and, for me, is the one-foot driving key to how rewarding it feels. Essentially, it allows you to accelerate like you normally would by pressing down on the "gas" pedal, then when you need to slow down or stop, you ease off the pedal or lift off completely to come to an absolute halt.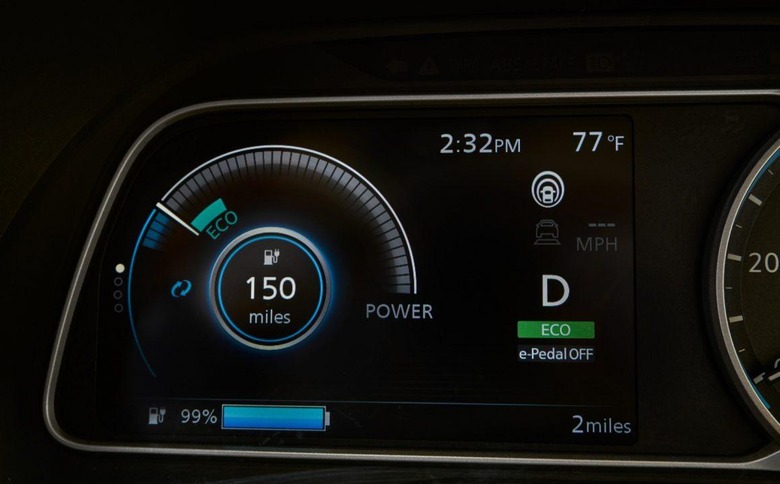 For anyone living in cities like San Francisco, where there are hills everywhere, I suspect you'll very much appreciate that fully lifting off the pedal actually holds the car in place, even on an incline. I also had the opportunity to test this feature out and must say that I'm impressed by how well it works.
It's a system that flatters urban driving the most. Largely, when dealing with speeds under 65 mph, the e-Pedal does its job slowing down the Leaf without demanding recourse to the brakes. Traveling at higher highway speeds, though, I found that you still need to engage the brake pedal at times.
For instance, if you get cut off – not an unlikely possibility on American highways, certainly – and need to immediately slow the car down, lifting off the e-Pedal probably won't slow the Leaf sufficiently. The approach to a tight, sweeping turn could probably benefit from more aggressive braking, too.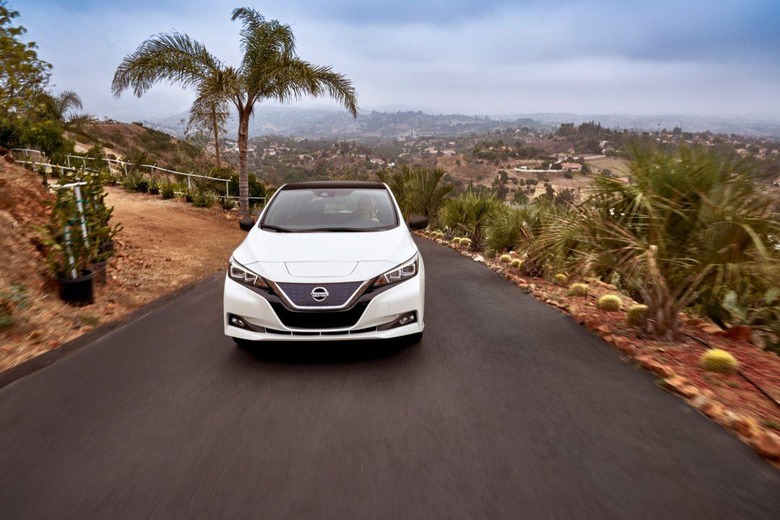 In one section of the test route, where Nissan has set up a simulated city environment, stop and go driving is where e-Pedal truly shines. As I speed up, however, there was another section where you reach around 65 mph and then hit a tight sweeping right-hand turn. Lifting off the e-Pedal at the sort of distance where you'd normally hit the brakes simply isn't enough to slow the car down. Overall, e-Pedal is a great feature, but it's worth remembering that it's not perfect in all driving conditions.
Nissan's other big driver-assistance push with the 2018 Leaf is ProPILOT ASSIST, and I suspect anyone living in areas with massive traffic jams such as Los Angeles, San Francisco, or New York will quickly come to appreciate it. Its primary function is to make your commute more comfortable and cut the amount of stress you're feeling when you finally arrive at your destination, by helping with the steering and articulating the accelerator and brake pedals.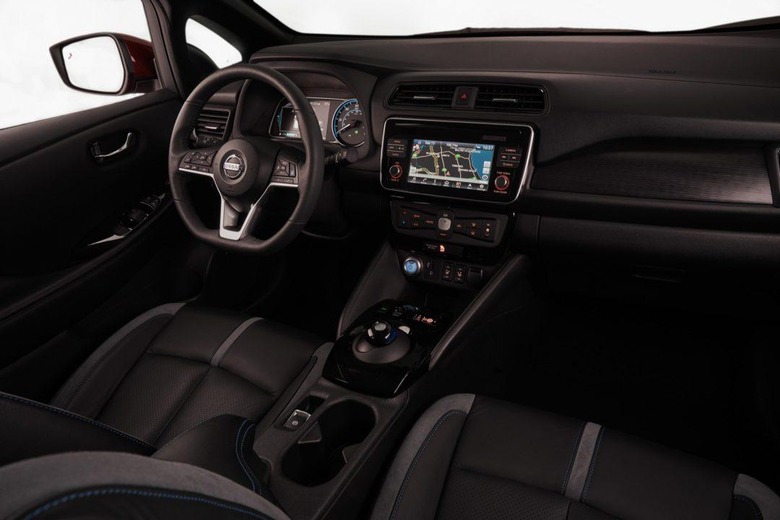 First, the steering part. While it's not Level 3 self-driving, it's pretty darn good when I tested it, and I'm positive the software improvements will make it even better by the time the Leaf arrives at dealerships. The system is relatively straightforward, using a forward-facing camera and radar in addition to sensors and an electronic control module to keep the car from swerving off to the left or right.
Of course, like any other semi-autonomous system on the market right now, it's not perfect. While there's redundancy in the system, if the camera is unable to detect clear lane markings it'll still ultimately be down to the driver to take over the wheel. Nissan is clear that no, it's not advocating taking your hands off the steering wheel completely. ProPILOT Assist still requires your hands to be on the wheel at all times, so don't even think about eating that burger you just picked up at In-N-Out because there's a steering torque sensor in place. If you try to merely gently coddle the steering wheel, the electronic nanny will bug you to tighten up your grip: you really need to grab it like you mean it.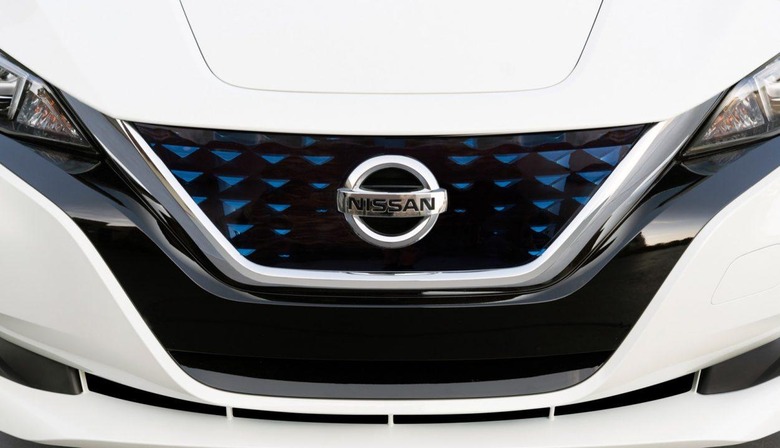 There are other factors that weigh in on how ProPILOT Assist operates, too. In the event that the windshield wipers are fully on, whether set to low or high, the steering assistance stops working. However, as long as the camera is still able to read the lane markings, if you keep the wipers in intermittent mode you're still good to go with steering assist in stop and go traffic.
During my testing, the 2018 Leaf was able to detect curving lanes and adjust its own speed accordingly. That second aspect of ProPILOT Assist aids you by taking over the gas and brake pedals. The Intelligent Cruise Control system will operate with or without ProPILOT Assist being activated. Again, though, this is assistance not driver replacement: if you come to a complete stop for more than three seconds, you need to press the resume button or lightly tap on the gas pedal to reactivate the system.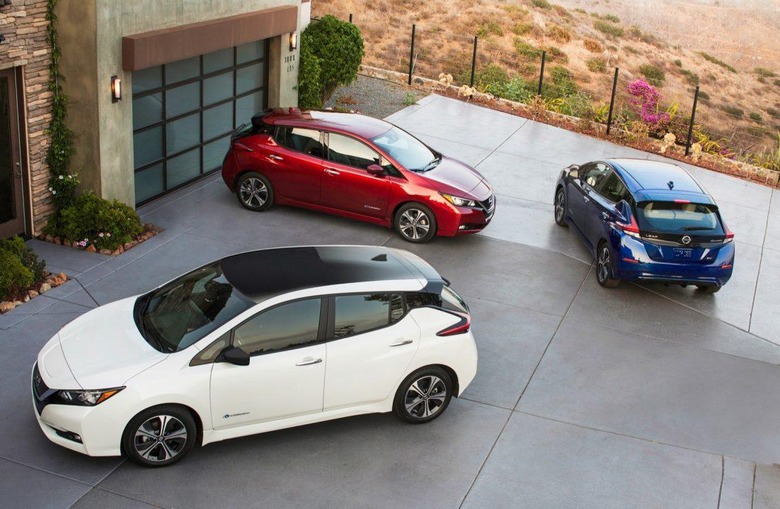 What's likely to be most controversial is the styling. Nissan has certainly opted for a more dramatic aesthetic than the last-gen Leaf, but the 2018 car still isn't as bold as some rival EVs. The automaker's V-Motion styling, lifted with blue moldings, ties it into the rest of its range while still signifying its zero-emissions drivetrain. Still, this is a long way from Nissan's eye-catching IDS concept.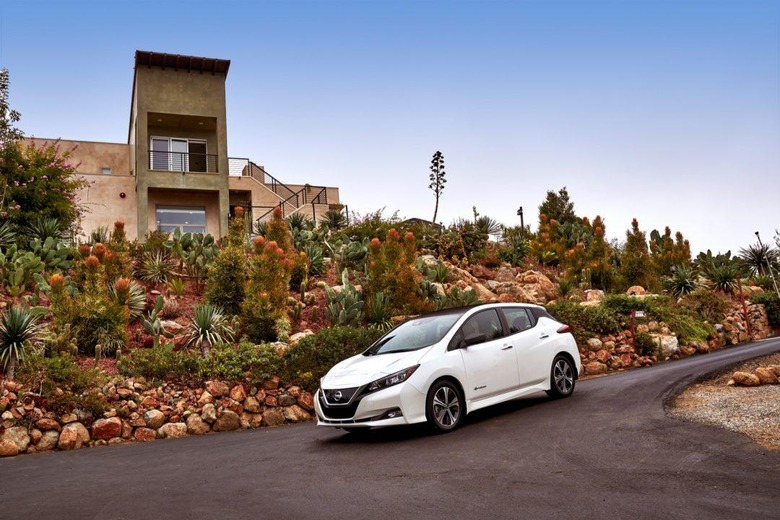 That probably makes sense for the automaker's target audience, which doesn't want to drive a spaceship. Instead, the 2018 Leaf pushes practicality that just so happens to be electrified. Inside for instance, there's a completely redesigned cabin dominated by a "gliding wing" dashboard, with blue stitching to match the exterior trim, and a new 7-inch touchscreen in the center stack with Apple CarPlay and Android Auto support. The cabin is so roomy that I can seat myself in the driver seat and, without moving the seat forward, then sit comfortably in the rear. That's not something I can say for other EVs I've driven, considering I'm 6'2".
Where the Leaf has always over-achieved is in pricing. In fact, the 2018 car goes one better than its predecessor, actually cutting its sticker rather than bearing an increase. The entry-level 2018 Leaf will start from $29,990 (plus $885 destination) when it shows up in US dealerships next year, $690 less than the outgoing car. Japanese buyers, meanwhile, will get it from October 2, while those in Europe will have to wait until 2018.