Nintendo DSi LL with 4.2-inch displays official [Update: DSi XL for UK in Q1 2010]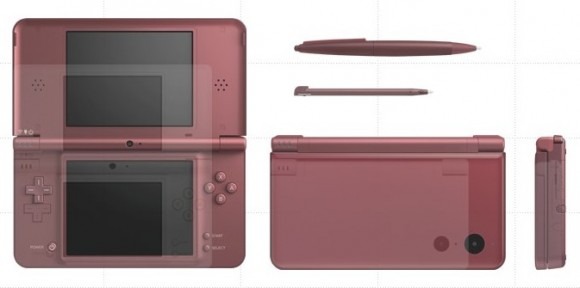 Nintendo have officially announced their latest handheld console, and like the rumors suggested it packs larger displays than the DSi.  The Nintendo DSi LL will drop in Japan on November 21st, complete with twin 4.2-inch displays (compared to the DSi's two 3.25-inch displays); as before, the lower panel is a touchscreen.Update: Nintendo UK have confirmed to Electricpig that the handheld will arrive in the UK come Q1 2010, as the Nintendo DSi XL.  We're guessing it'll have the same name and launch schedule in the US, too, though nothing is official as yet.  No word on pricing, either.
The size of the DSi LL is obviously greater, with the new dimensions being 161 x 91.4 x 21.2 mm (compared to the DSi's 137 x 74.9 x 18.9 mm) and it weighs in at 314g (the DSi is 214g).  Battery life has also increased, up to 13-17 hours with the display at minimum brightness or 4-5 hours at maximum brightness; in contrast, the DSi manages 9-14 and 3-4 hours in the same conditions.
Ports, microphone/speakers and cameras are the same as the DSi, and as far as we know the internals are unchanged too.  The Nintendo DSi LL will be priced at 20,000 yen ($221) and available in wine red, dark brown or natural white when it arrives in Japan on November 21st; no word right now on a US or European launch.