Nintendo DSi LL sized-up with PSP-3000: it's vast!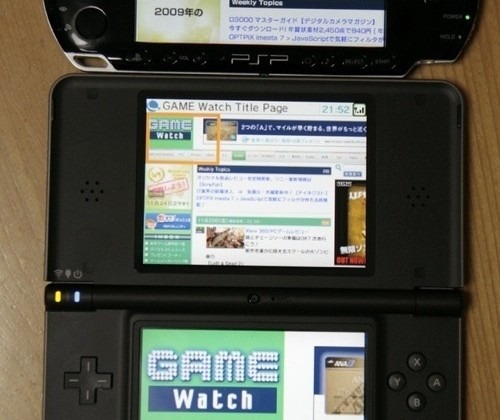 Nintendo's DSi LL hit Japanese shelves this weekend, and we hope those who braved the stores to pick up the new, oversized handheld had been doing their arm exercises; as Game Watch's comparison photos show, the "LL" moniker isn't just there for show.  Shown here next to a Sony PSP-3000, the DSi LL looks, frankly, huge.
Even closed, the DSi LL pretty much dwarfs the PSP still, and Sony's console has never been the most compact of the breed.  Still, that's the payoff to having twin 4.25-inch LCDs, and it's one Nintendo are expecting will be welcome to the sort of gamers – the elderly and sight-impared included – who they reckon will be clamoring for the DSi LL.
US and European gamers willing to make the same compromises will be able to pick up the DSi XL (the name for the DSi LL outside of Japan) come Q1 2010.  Nintendo have also discussed the next-gen model of the DS having integrated 3G.
[via Kotaku]