Nintendo 3DS XL Mario Kart 7 Bundle Races In For The Holidays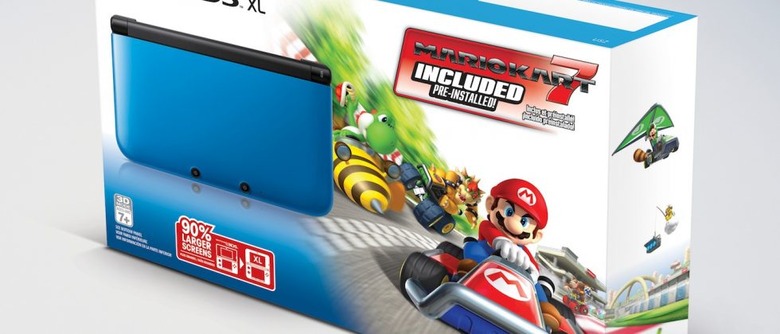 Nintendo's holiday gush continues, with the gaming company pushing out a new bundle this time preloading Mario Kart 7 onto the eye-friendly 3DS XL. The new, limited-edition system pairs the blue/black version of the larger glasses-free 3D handheld with a copy of Mario Kart 7  for $199.99, rather than the $240 you'd be shelling out if you paid RRP for each separately.
In fact, you're getting the duo for the same RRP as the regular 3DS XL, which basically makes the game a freebie. It's also saved to the handheld itself, meaning no need to carry around a separate cartridge; still, that does mean you can't trade it in or swap it with a friend when you get bored of playing it.
Earlier this month, Nintendo revealed a flame red bundle centering on the original 3DS, and including a preloaded copy of Super Mario 3D Land. There's also a bright yellow 3DS XL headed to Europe, while Japan gets a Charizard limited edition.
Meanwhile, Canada has a cut-price version of Nintendo's Wii, the freshly-announced Wii Mini, priced at CA$99.99 but sacrificing internet connectivity and backward compatibility with GameCube titles in order to hit that price. Of course, most eyes are on the new Wii U, the next-gen console Nintendo is hoping will turn around its fortunes.