Nintendo 3DS Sales Frozen As Amazon Investigates Fault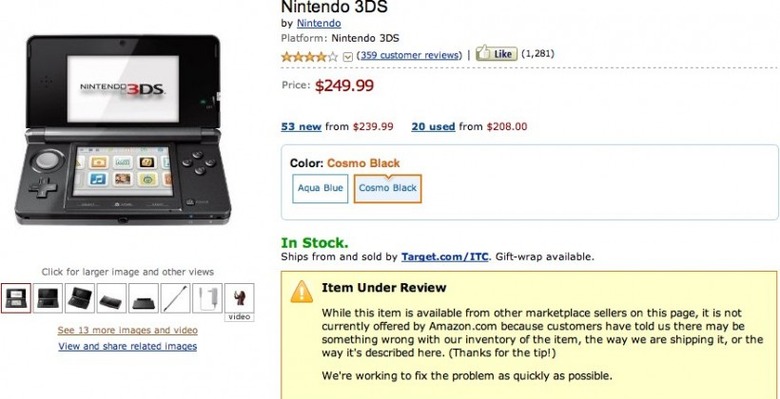 We may receive a commission on purchases made from links.
Amazon has frozen sales of the Nintendo 3DS, with the glasses-free 3D handheld currently listed as "under review" after customer complaints. Although sales through marketplace sellers continue, Amazon says will not be offering the 3DS itself until the issue has been rectified. The exact reason for the delay has not been specified, though some reports claim it's down to scratches on the top display from the clamshell design.
The two screens, it's suggested, have been rubbing against each other when the 3DS is closed. Although neither Amazon nor Nintendo have confirmed that this is the issue, some recent 3DS buyers have reported finding larger rubber bumpers on the console, keeping the two halves further apart.
Although launched to great fanfare, the 3DS has seen less sales success than Nintendo hoped. CEO Satoru Iwata admitted that they had been "weaker than expected" and suggested that a shortage of 3D-capable titles could be to blame. The Nintendo eShop launched in early June, several months after the console itself went on sale, and the first dedicated Pokémon game, Pokémon Rumble Blast 3D, will arrive in late October 2011.
"Item Under Review

While this item is available from other marketplace sellers on this page, it is not currently offered by Amazon.com because customers have told us there may be something wrong with our inventory of the item, the way we are shipping it, or the way it's described here. (Thanks for the tip!)

We're working to fix the problem as quickly as possible."
[via Neowin]