Nintendo 3DS game card spotted; new wireless eReader app tipped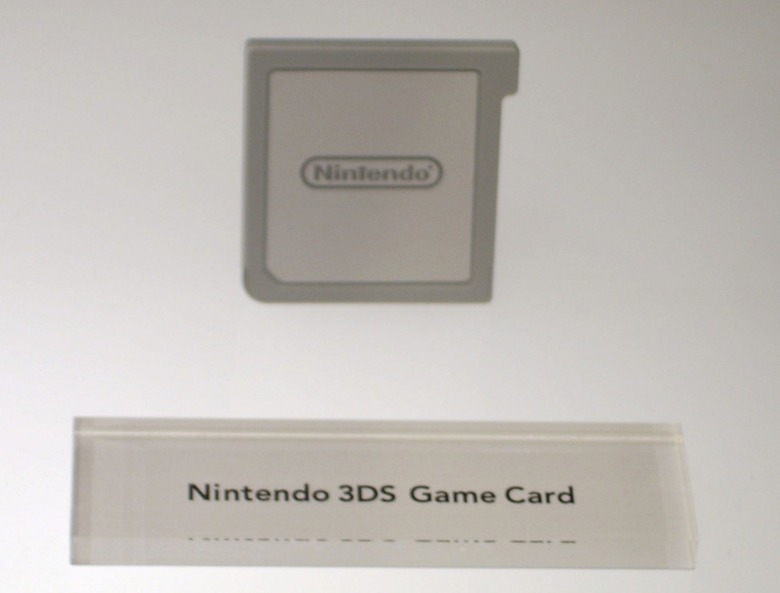 When Nintendo confirmed that the same game card slot on the 3DS would work with both original DS cartridges and the company's new 2GB 3DS cartridges, we knew the new cards wouldn't be all that different in appearance.  Now we know exactly how similar they are thanks to Siliconera: basically the same as a DSi card, but with a small extra tab in the top corner.  Meanwhile Nintendo CEO Satoru Iwata has hinted that the 3DS may be able to "automatically acquire newspaper and magazine articles" using its integrated wireless connection.
Speaking to Japanese paper Nikkei this week, Iwata reiterated that the 3DS' wireless connection could remain active while the gaming handheld itself was in sleep mode.  "It will seek out and automatically connect with wireless LAN spots, and download information" he explained, before going on to illustrate one potential use-case where timely news could be automatically loaded onto the 3DS and offered to the gamer when they turn the device on.
Nintendo has already created multiple content partnerships in Japan with the existing DSi, which can download mini-games and other information from retailers and transport links.  No word on how we could expect battery life to suffer with this constant scanning for connectivity, nor whether Nintendo are planning paid or only free content for the system.