Nintendo 2DS arrives in Japan with limited-edition Pokemon colors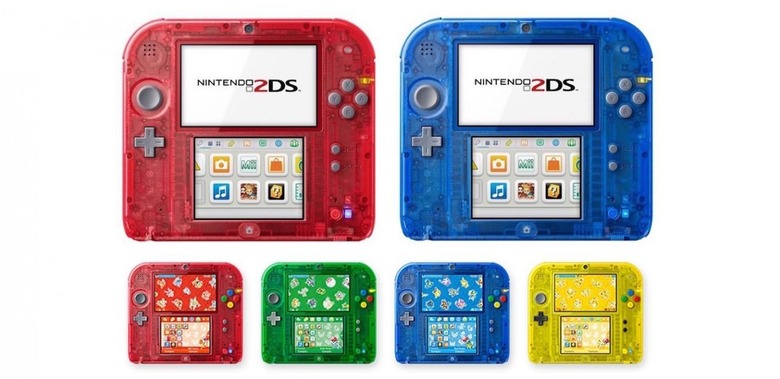 It's been over two years now since Nintendo debuted its 2DS handheld system in the US, dropping the 3DS's clamshell hinge as well as 3D functionality in favor of a slate-like form factor with a budget-friendly price. Now the odd portable is arriving in Japan for the first time, but in the form of special Pokemon-themed editions. The four models come in transparent red, blue, green, and yellow, and coincide with Nintendo's release of updated versions of the original Gameboy Pokemon titles.
Each color of the Nintendo 2DS corresponds with the classic titles Pokemon Red, Blue, Green, and Pikachu Yellow, and the handhelds come with the matching game pre-installed. The special edition packages are in celebration of the four Pokemon games' arrival on the 3DS Virtual Console, as well as the 20th anniversary of the series.
While the red and blue versions of the 2DS hardware have already seen release outside of Japan, such as last year alongside Pokemon Omega Ruby and Pokemon Alpha Sapphire, but the new green and yellow versions are said to be exclusive at this point.
The Pokemon-themed 2DS bundles will be released in Japan on February 27th, priced at 9,980 yen (about $83), the same time the older games hit the Virtual Console. The classic Pokemon titles will be playable on any version of the 3DS hardware, however there's no word yet if the special 2DS bundles will be sold outside of Japan.
SOURCE Nintendo
VIA Polygon