Nintendo 2DS Unveiled: 3DS Compatible In A Dual-Screen Slate Form Factor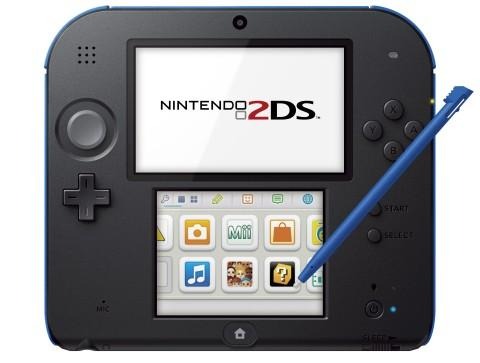 Nintendo has unveiled the latest entry into the 3DS family of devices. This one will be arriving as the Nintendo 2DS and as the name would imply, this one is not 3D. The Nintendo 2DS will be available beginning on October 12 and those looking to make a purchase will be able to choose between red and blue.
Perhaps key here, the Nintendo 2DS is being billed as a device that brings a "more affordable entry point." The price of the 2DS will be $129.99. Aside from being 2D, this handheld system also differs from the 3DS in that it doesn't fold over. The Nintendo 2DS will be sporting a fixed slate-style form factor. It will however be able to play any of the Nintendo 3DS games.
Nintendo has said the 2DS will be able to play the entire collection of packaged and downloadable Nintendo 3DS games. Of course, those games will be played in 2D. The system will also be backwards compatible with Nintendo DS games. Nintendo will also have carrying cases available (in matching red and blue). Those cases will be priced at $12.99.
Otherwise, looking towards some of the available games and there are some set for release later in the year. Nintendo has announced the 3DS titles that will be arriving during the fourth quarter. That list includes The Legend Of Zelda: A Link Between Worlds and Mario Party: Island Tour, both of which will arrive on November 22nd. The Q4 game releases also include the following;
Scribblenauts Unmasked: A DC Comics Adventure (Sept. 24); LEGO Marvel Super Heroes: Universe in Peril (Fall) and Batman: Arkham Origins Blackgate (Oct. 25) from Warner Bros. Interactive Entertainment; Skylanders SWAP Force (Oct. 13) from Activision Publishing; Adventure Time: Explore the Dungeon Because I DON'T KNOW! (Nov. 19) from D3Publisher; and Sonic Lost World (Oct. 22) from SEGA.