Nikon D3s DSLR with 1080p and ISO 200-12,800 tipped for October 15th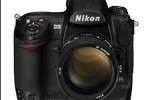 If you're not impressed by the Canon EOS 7D's high-def performance, then how about an 1080p Nikon?  According to Nikon Rumors, there's a 99-percent chance that the company will announce the Nikon D3s on October 15th.  The new D3s, they claim, will offer not only 1080p Full HD video capture but 14fps continuous still shooting.
Meanwhile a second (anonymous) source suggests the high-end DSLR will also bring with it an extended ISO range above that of the D3, up from ISO 200-6400 to ISO 200-12800, together with a 1.3x crop mode.  They also tip a new ISO range HI-3 at 102,400 ISO, as well as that the D3s will have a 12.1-megapixel FX sensor.