Nike+ Fuel app now connects with iOS Health, band no longer needed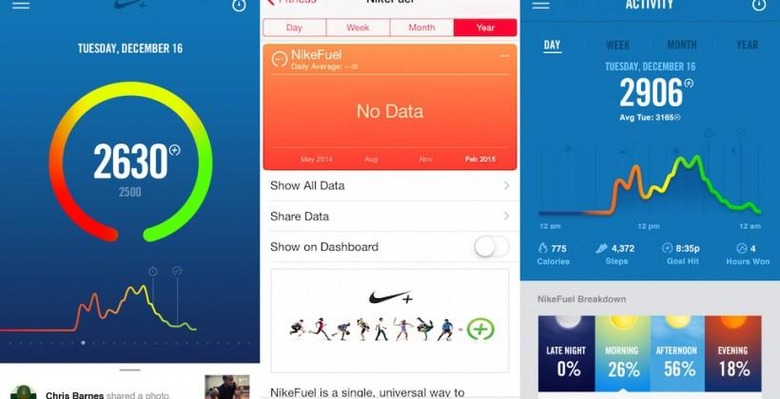 A significant update was released yesterday for the Nike+ Fuel app for iOS. Most notably, the app now features HealthKit integration, meaning data from Nike's FuelBand wearable can be shared with the iPhone's new Health app. But also important is that a FuelBand is no longer required at all, as users can instead rely on the health and movement tracking sensors built-in to the iPhone 6 and 5S. Since the app itself remains free, there's now no purchase required to use Nike's movement tracker.
Nike's app relies on its own system of NikeFuel, which are basically points earned throughout the day based on how much users move. The ability to send data to the iOS Health app means the NikeFuel metric can be displayed on the health dashboard.
Also, instead of collecting movement data from a FuelBand wearable, the data that is already being collected by the iPhone itself can be sent to the Fuel app to account for points. The Fuel app requires users be running at least iOS 7.1, but all this connectivity with the Health app means iPhone must be on iOS 8.
As mentioned the Nike+ Fuel app is free, and FuelBands sell for $100 at the Apple Store, but as Nike closed its Fuel hardware division last year, this is likely a step towards securing Fuel as a service only in the future. Nike is surely planning on compatibility with the forthcoming Apple Watch, which, with its own health and movement tracking features, would replace a FuelBand for many users.
VIA 9 to 5 Mac
SOURCE Nike+ Fuel app