Nexus Prime Chassis Specs Reported, Support Page Up At Samsung

It appears that rumors and confirmations are coming on the daily here on the upcoming Android 4.0 Ice Cream Sandwich device known thus far as the Nexus Prime. We've heard it called the Nexus Prime, the DROID Prime, codename GT-I9250, and today a new name: Samsung Galaxy Nexus. This comes from a tipster that's also revealed the fact that Samsung now has a support page up for the soon to be live device, though this support page is nothing if not incomplete to say the least, showing only the device code and a bunch of placeholder links on all sides. The real juicy bits come from a tipster who notes that this new device is likely to be 8.8mm thin with a full metal chassis.
This morning we get a glimpse of this device in all its textual glory, still no physical images to be had, right on over at Samsung official. The "daily" note written above comes from the fact that just yesterday we were treated to another Samsung leaked bit of code, this time in the innards of their mobile site showing a user page for the Samsung "Nexus Prime". Then if that wasn't good enough for you, Google's own Eric Schmidt confirmed via a sit down conversation-style keynote that Ice Cream Sandwich would be released in October/November 2011.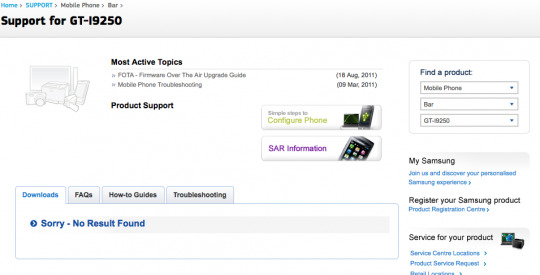 Now we've got a tip from someone speaking with GSMarena that this could line up really rather nicely with the coming out party for the PRIME:
"For one, our tipster says that the final name of the next Google flagship is Samsung Galaxy Nexus rather than Nexus Prime. It will have a 4.65″ screen of HD resolution – not 4.5″ WVGA. ... screen is curved just like the Nexus S screen ... device itself will be very thin – 8.8mm – and have a metal chassis ... the launch date – at the end of October (right on the Ice Cream Sandwich schedule)" – tipster
I've got to tell you here that normally, and I mean basically all the time, we wouldn't take the word of a tipster, especially one speaking with a third party source, on their word unless they had some sort of confirmation of their legitimacy. When it comes to the Nexus PRIME, on the other hand, there's a bit more leniency given in the face of the massive amount of excitement this device has thus far generated. It's the next Google mobile OS hero device, for goodness sake!
Finally I've got to pass on this comment found by Android Community on the matter, one that should ring true for all you fans of the odd naming techniques used by manufacturers and carriers the world round:
"Galaxy Nexus is like naming your kid Ricky Bobby. Galaxy Prime would make more sense and sounds a lot better." – Kenshiro
Are you pumped up about the Nexus PRIME? Will you bypass the DROID BIONIC and the Galaxy S II USA launch for this next-generation super phone? Let us know!
[via Android Community]