Nexus 9 now available, ships in 1-2 days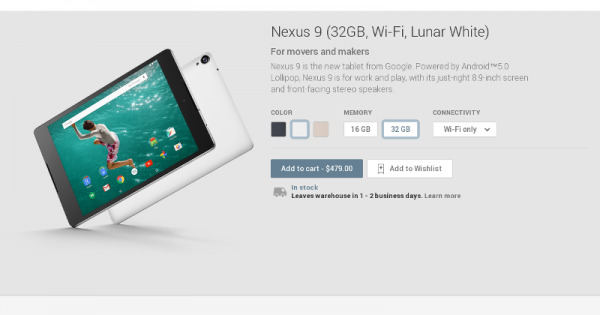 Yes, you've read that right. The first of the next generation of Nexus devices is finally marked as available, in stock, and shipping in just a few days. Of course, you might be able to get it sooner if you buy from a retailer like Best Buy. The launch of the Nexus 9 heralds the start of the availability of devices based on Android 5.0 Lollipop. It hopefully also marks the date of availability of the latest Android version as well, which means older Nexus devices might be receiving it soon, too.
The Nexus 9 is notable in many ways. From a historical perspective, it is a significant one for HTC, as it is the first Android tablet they have made since the ill-fated Flyer. It has also been quite a while since HTC and Google collaborated on a Nexus device. The tablet might not bear the hallmarks of HTC's smartphone design, unlike the Nexus 6 which is unmistakably a Motorola handset, the premium build and quality users have enjoyed in the HTC One, both M7 and M8, are to be found here.
From a technological standpoint, the Nexus 9 is also notable as it is the first 64-bit Nexus device that will be road testing Android 5.0's new 64-bit support. That bitness comes from an NVIDIA Tegra K1. The tablet is quite slim, though probably not in the same boastful was as Dell's Venue 8 7000. Google and HTC have also opted to move away from the 16:9 common to most tablets and have instead favored a 4:3 like the iPad, albeit in a larger 8.9-inch screen with a 2048x1536 resolution. And for a pinch of HTC, there are two BoomSound speakers facing the user.
If you want to read our thoughts on Google's latest tablet, you can head over to our Hands-on piece and look forward to our more in-depth review of the Nexus 9.
The Nexus 9, available in black, white, and gold colors, is now available from Google Play Store, with the 16 GB WiFi-only mode bearing a price tag of $399 and the 32 GB costing $479. The tablet is noted to leave the warehouse in 1 to 2 days. That said, if you're in a hurry to get your hands on one, some retailers, like Best Buy, have it ready if you're willing to go and pick it up yourself. The Nexus Player is still set to ship in two to three weeks while the Nexus 6 remains out of stock.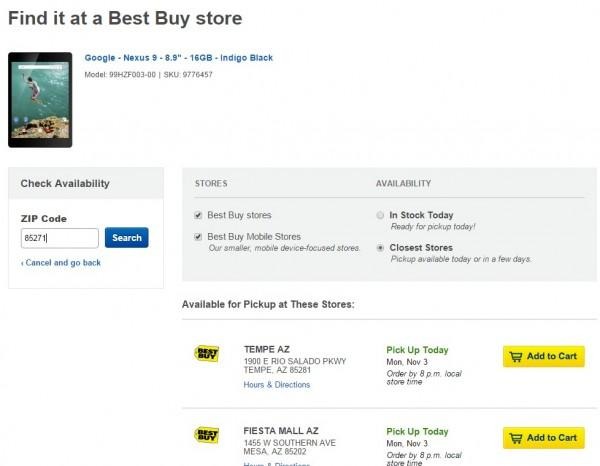 SOURCE: Nexus 9 from Google Play Store (16 GB Black), (32 GB Black)